Welcome to EATS, where we bring you plant-rich recipes and tips for flavorful, sustainable home cooking. Together, we will explore the world of plants, sharpen our kitchen skills, and help create a more just food system. EATS is not about what you can or can't eat, or what you should or shouldn't eat. It's about eating (and cooking) more plants and enjoying every single bite.
There are dozens of meals that you can simply put together in foil packets and heat over a fire. They're a perfect go-to camping staple for anyone who wants a hearty and savory meal with the least amount of effort. All the work for the ready-to-eat meal is done ahead of time and wrapped neatly in foil which acts as a storage container for transport, a mechanism for cooking, and a plate once it cools. All you need are your favorite veggies and spices to mix and come up with delicious meals to make in aluminum foil over the fire.
Although aluminum foil was only invented at the beginning of the last century, the idea of cooking over an open flame has been around for roughly two million years. The practice changed what we ate and the way that we ate it. Anthropologists suggest that cooking over flames may have originated from humans watching things fall into fire. People later adopted the method of changing objects by putting them in fire and applied it to food, later laying food over hot coals or buried under scorching embers.
I was first introduced to the idea of cooking in foil over flames or on the grill when I went tailgating in a parking lot just outside a sports stadium. I enjoyed grilled corn and bell peppers with warmed tortillas that were prepared on a portable grill, and what amazed me was how delicious and simple it was to make. I ended up taking the foil idea and looking up dozens of combinations of veggies, sweet dessert dishes, and meals that could be baked and buried under burning embers or coal. However, my favorite go-to foil prepared meal has to be fajitas with colorful bell peppers that hold enough texture and flavor that it can be consumed without dressing it up with anything after removing it from the fire. The recipe below is one of my favorite ways to prepare my favorite foil packet meal.
— Jasmine Lowe, Intermediate Adventure and Hike Lead of LA-based Black Girls Trekkin'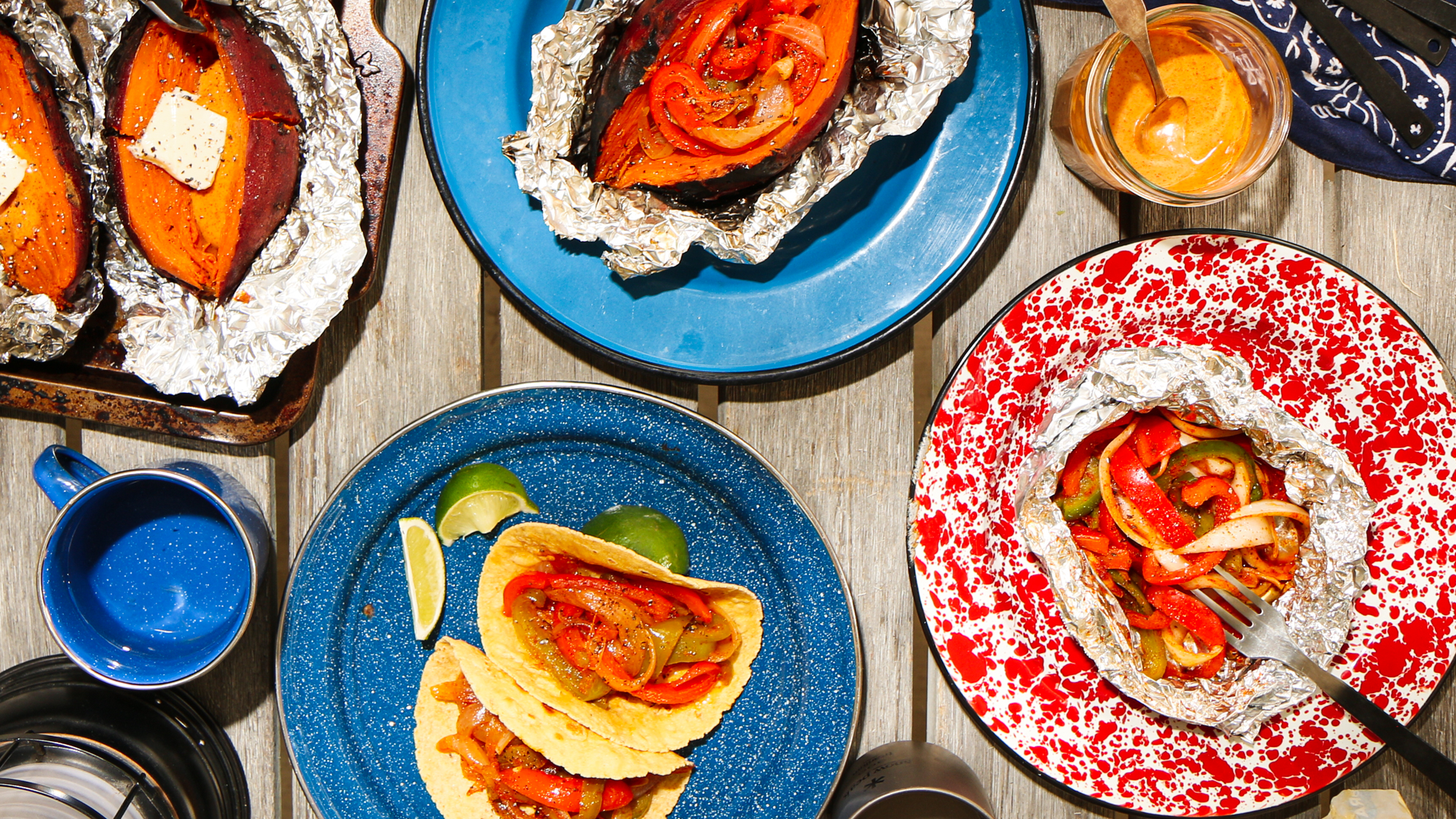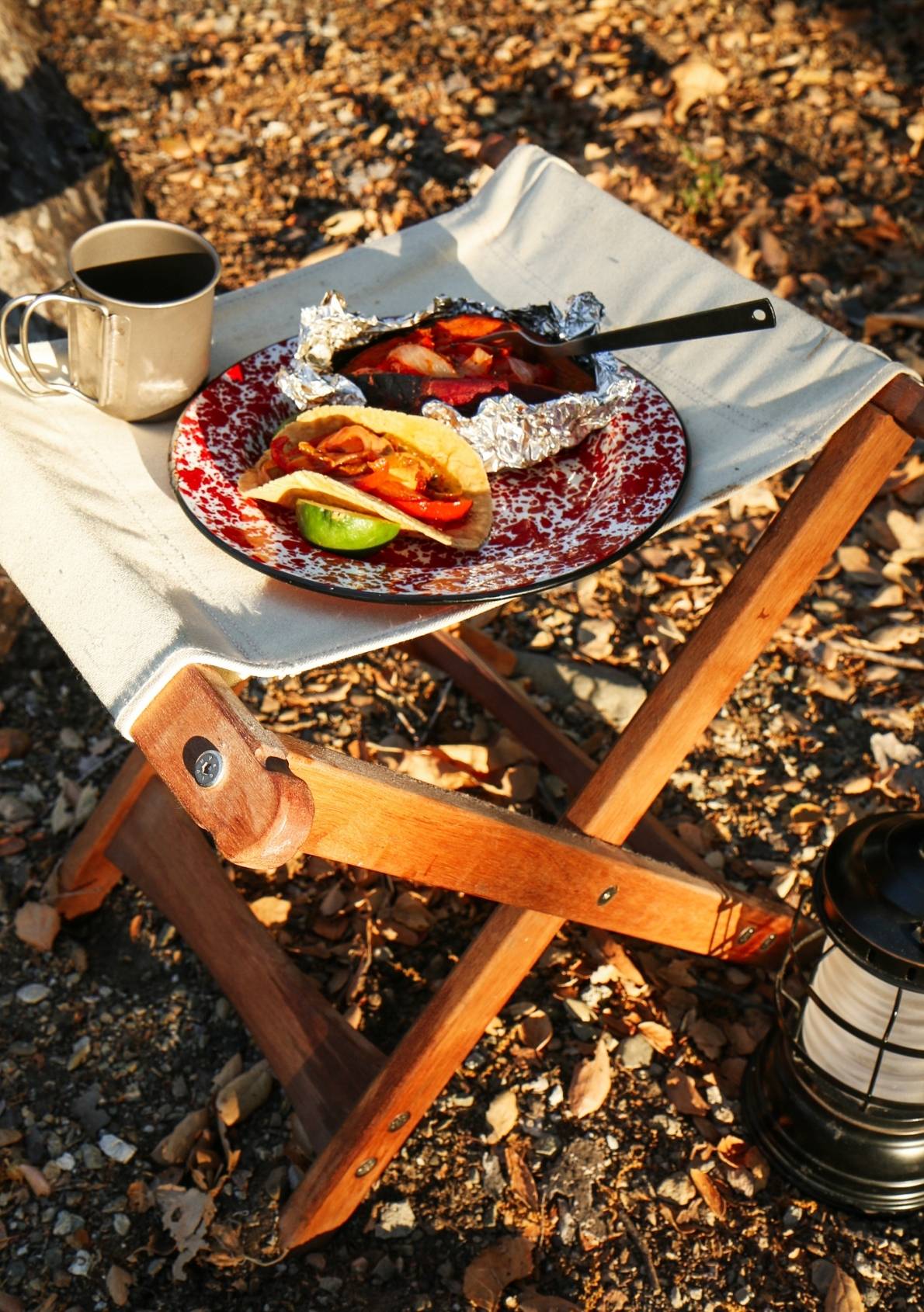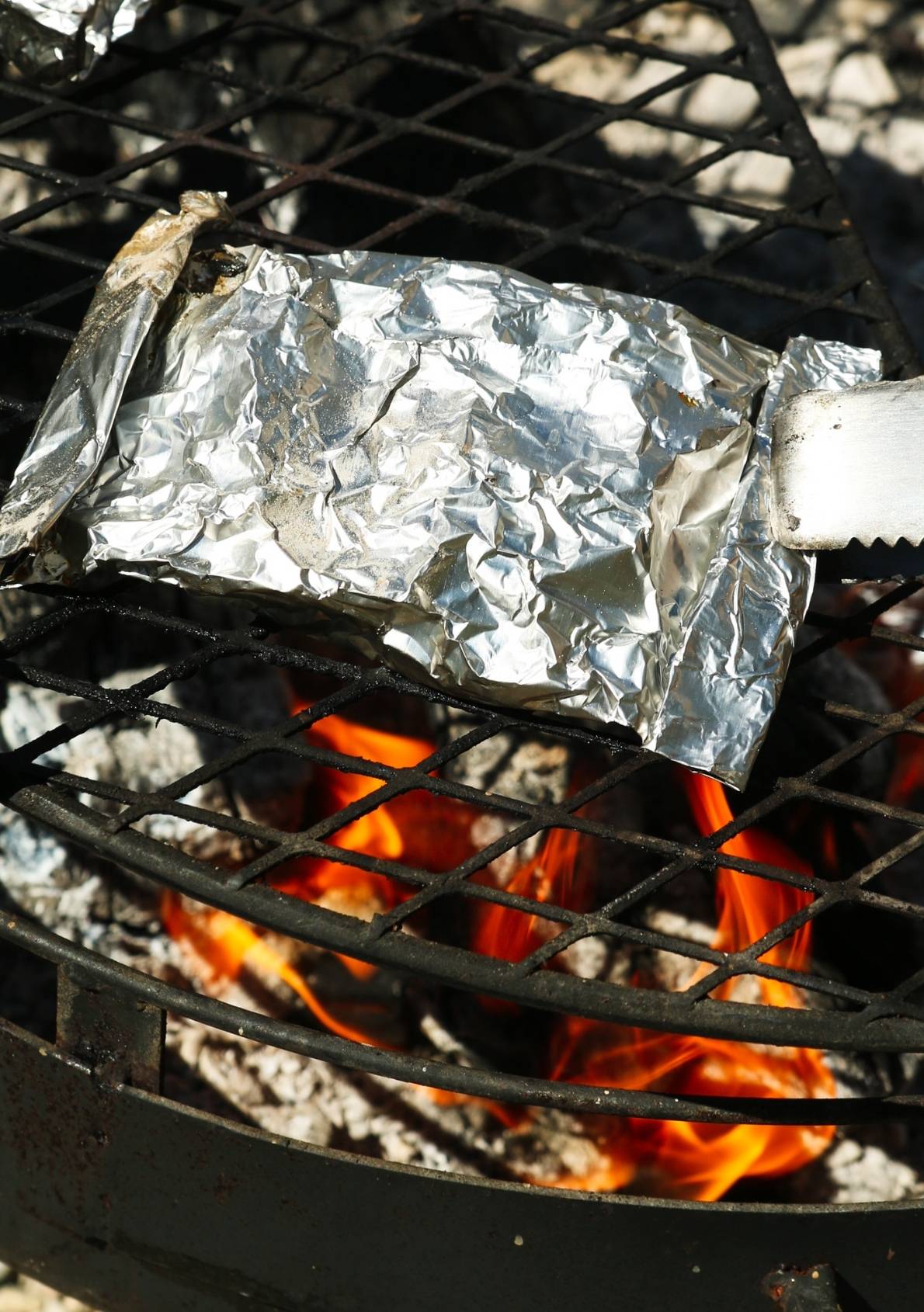 Coal-Roasted Sweet Potatoes and Bell Peppers with Spiced Sour Cream
A (camp)fire meal. Just prep, pack, and roast.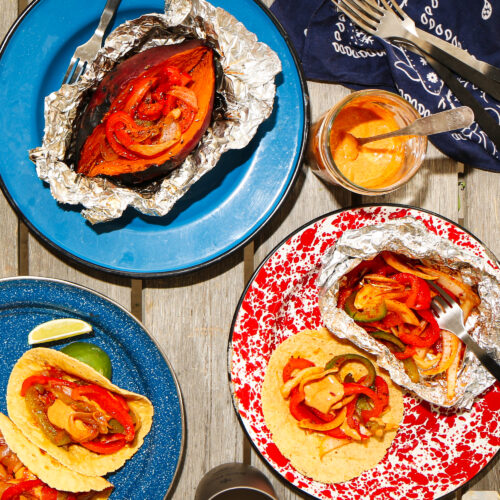 Ingredients
WHAT YOU'LL NEED
4

sweet potatoes

4

Tbsp.

plant-based butter

Salt

Pepper
Foil Packet Spiced Peppers
1

red bell pepper,

stem and seeds removed, sliced

1

green bell pepper,

stem and seeds removed, sliced

1

white onion,

sliced

3

Tbsp.

cooking oil

3

garlic cloves,

sliced

1

tsp.

chili powder

1

tsp.

salt

1

tsp.

paprika

½

tsp.

onion powder

⅓

tsp.

garlic powder

½

tsp.

Cumin
Spiced Sour Cream
½

Cup

plant-based sour cream

(such as Kite Hill)

1

Tbsp.

brown sugar

½

Tbsp.

paprika

½

Tbsp.

chili powder
Optional
4 to 6

16 inch tortillas

(corn or flour)
Instructions
HOW TO MAKE IT
Make the sweet potatoes: Wrap sweet potatoes in heavy duty aluminum foil. Place them in the campfire near the embers. Turn every 5 minutes or so. Using a fork, check for tenderness. Potatoes are done when they are tender all the way through. Roast potatoes for about 30 minutes.

Make the peppers and onions: Add peppers, onions, and garlic to a sheet of foil. Sprinkle over spices. Fold foil to create a packet with all edges sealed. Place the assembled foil packets just above the campfire on a grill grate and cook for 15 to 20 minutes until the veggies are a little soft and the onion is just beginning to brown. If you don't have access to a grill grate, place the packets near the embers alongside the potatoes.

Make the spiced sour cream: In a small bowl, combine sour cream, chili powder, paprika and brown sugar.
PUT IT ALL TOGETHER
Remove the potatoes from the coals. Let cool for 5 minutes before handling. To serve, unwrap potatoes and split in half lengthwise. Split a pat of butter between each half and add a spoonful of the sour cream.

Mix in with the potato until combined as desired. Season with salt and pepper to taste. Serve the packet of campfire roasted veggies on the side. If serving tortillas, warm them by holding over the fire for 30 seconds to heat through.
MAKE AHEAD
Foil packet assembly: Prepare the foil packets as directed. Store in zip-top plastic bags for transportation.

Potato preparation: Wrap the sweet potatoes in heavy duty aluminum foil. Store in zip-top plastic bags for transportation