Radicle Sounds
Spring 2023 Curated by DJ Ayanna Heaven
A soundscape for new blooms, afternoons in the park, and a reunion with nature.
Radicle Sounds is a seasonally-curated playlist series created in partnership with Black DJs. To celebrate Earth Day, we collaborated with Brooklyn-based DJ Ayanna Heaven. Nia McAllister, Earth in Color's Editorial Lead, sat down with Ayanna to discuss her musical journey and the intentional process behind curating this season's Radicle Sounds playlist.
Nia McAllister What's been your journey with music? How did you become a DJ?

DJ Ayanna Heaven For a long time, when people asked me this question I would say it was high school. When I was a freshman, I had a classmate who introduced me to so many new sounds, and planted the seed. Before then, I was kind of just a passive listener. From there, I created my own journey.
I would tell the story that way for a long time.
But lately, I've been thinking about the fact that I started playing viola in the sixth grade. I love that it ignited something in me. I really, really loved playing the viola and being in orchestra. I don't have a memory of loving music before then. l had to stop playing when I got into high school, but I think that led to my discovering music and new sounds. From there, I started DJing school assemblies and making playlists and CDs for people—teachers and friends. I was that music girl.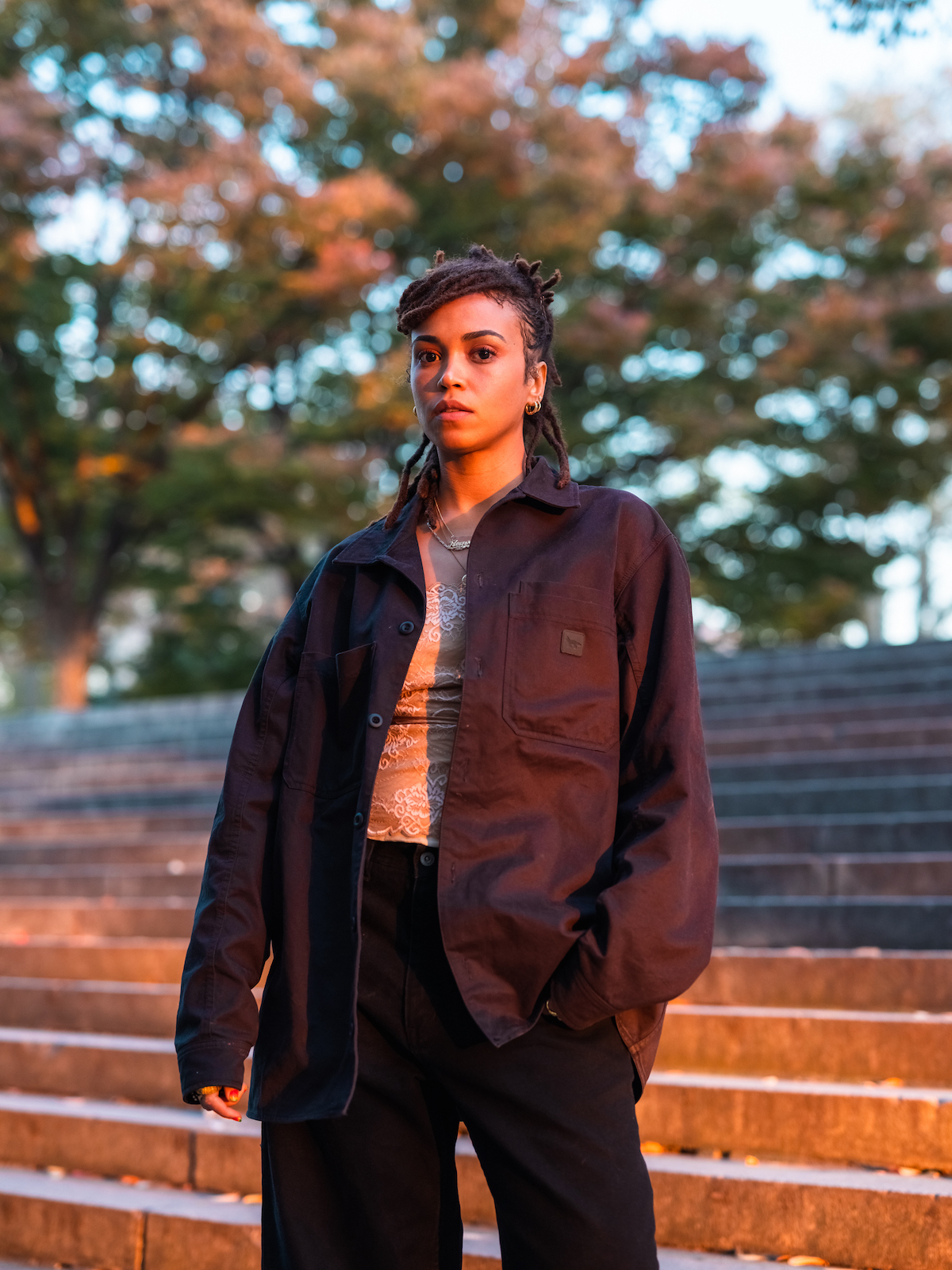 When I came to college at the New School, I decided to study contemporary music and anthropology with the idea of ethnomusicology in mind. I did some DJing in college as well, but never really had the confidence, honestly, to take it on as a career or even consider that it could be one. I thought no one was going to understand my eclectic taste. And I literally told myself that there was no place for me.
I graduated from college and did some work in education. But I really wanted to be creative. It was eating away at me. I was just not fulfilled and felt like something was missing. So in 2018 I decided to quit my job and move back to Jamaica, which is where my family's from. I wanted to start fresh and try something new. And DJing was number one on my list. I took that time to learn it again and refresh my memory. I got really into reggae at that time. I've always been interested but never really took the time to focus on it.
When I came back to New York, I started taking on gigs, hustling, doing other jobs, and working as much as I could to maintain this career. People don't really realize that DJing is pretty expensive to start—there's the equipment and music. And many gigs are not well-paying, especially if you are just starting. But in 2022, I was able to quit my jobs and start DJing full time.
nia Tell us about this playlist, what is the soundscape that we're being immersed in through this playlist? And what kind of story are you trying to tell?

AyannaI have a really eclectic taste, and I play different kinds of music. I don't like to limit anything that I do to one genre, if possible. When the idea of the Radicle Sounds playlist was presented to me, I combed through my music and identified songs that connect with nature. I went through every single song I had on Spotify and old playlists, and pulled out key words. You'll see quite a few songs that have similar names, whether it's spring or flowers. Then I was listening to the songs and deciding how and where they could fit together. You're gonna hear reggae, some soul, and a little bit of hip hop. The playlist reflects an energy of renewal. I think a lot of people who listen to my radio shows would characterize my sound as uplifting, but also kind of medium energy. I'm not a high energy dance DJ all the time. I also like music that can help inspire reflection and create a good feeling. I hope that comes across in these songs.
"This playlist takes me to this time of year, when we're noticing the sun again, noticing the trees again, and noticing the flowers again. It's like this promise of spring that always returns to us."
nia Absolutely, it really captures the mood and the season well. Where does this playlist take you when you listen to it? Is there a specific place or energy?
AyannaThis playlist takes me to this time of year, when we're noticing the sun again, noticing the trees again, and noticing the flowers again. It's like this promise of spring that always returns to us. In New York, winter can just be such an indoor time. For a lot of the year it's dark, so it can get really depressing in the cold. Thankfully, I live in a neighborhood that has a lot of nature, so you really notice when the season is changing. You're seeing the blooms and the blossoms and this music feels like that energy. It feels like we're back again after waiting so long. We paid our dues and now we can rejoice in this new time and have a reunion with nature. Spring is also so special to me since it's my birthday season.
nia That's beautiful. It is such a celebratory time of transition. What's your overall process when curating music?
AyannaI have a huge bank of music and an internal filing system that helps to figure out what to pull and what's appropriate and what's not. With a playlist like this, I spend a lot of time on streaming platforms. Spotify is at the center of it all. I have a lot of liked songs. I also use Tidal quite a bit. Streaming platforms are a great organizing tool. I also have a vinyl collection that I'm always trying to keep organized in my brain. And finally, I have Serato, my DJ software, that's my other bank of music. Organization is key. That is the first step before I can be thoughtful and creative.
Quick Takes
nia What is your favorite way and/or place to be in nature?
AyannaI love parks. Prospect Park is my favorite. There's a really nice meadow there that I just love. I will spend hours sitting out in the grass. It's a reprieve from the loud sounds and everything that comes with being in a city. The park is a huge refuge for me.
I also love going back home to Jamaica, where I live in a very natural place surrounded by trees and flowers and lots of fruit and vegetables. When I'm there, whether it's at home or being outside with nature and my dogs, that's another place of refuge for me. I also love the beach.
nia What are three words to describe how you want people to feel when they listen to this playlist?
AyannaEnergized, reflective, peaceful.
nia What is your favorite thing about springtime?
AyannaI'm such a flower girl. I love blooms, trees with flowers, and small flower beds. In the city it is such a treat when you're walking around and you encounter a block that has nice nature. I'll stop and look at any beautiful flower I see. When I see the blooms of spring, it re-energizes me.
nia Can you share a few emerging artists that you want people to know about?
AyannaI am really liking a song by Mystic Marley right now. She is the granddaughter of Bob Marley, daughter of Stephen Marley, who's also an awesome musician in his own right. She has this beautiful new song called Energy. There's a really great artist named Real Intentions. He has a song called Season of Change. The Far East out of Brooklyn and The Frightnrs out of Queens are both great bands and good friends of mine. I tend to gravitate towards reggae and soul funk. And I love seeing new takes on both of those sounds.