Welcome to EATS, where we bring you plant-rich recipes and tips for flavorful, sustainable home cooking. Together, we will explore the world of plants, sharpen our kitchen skills, and help create a more just food system. EATS is not about what you can or can't eat, or what you should or shouldn't eat. It's about eating (and cooking) more plants and enjoying every single bite.
Canned beans are our go-to for quick meals and easy-to-make dishes, but when we have the time to simmer a pot of beans on the stove, we reach for dried beans. Dried beans can take up to 3 hours or more to cook, but the additional cooking time creates a flavorful broth enriched with the seasonings you choose. We like sweet shallots, celery, and bay leaves for this light, golden broth. Once you get the hang of making brothy beans you can start playing around with different heirloom varieties to see how their unique flavors and creamy textures change the taste of the broth. We like to get our beans from Rancho Gordo, a California-based company that specializes in heirloom beans that are responsibly grown and sourced from communities throughout the Americas.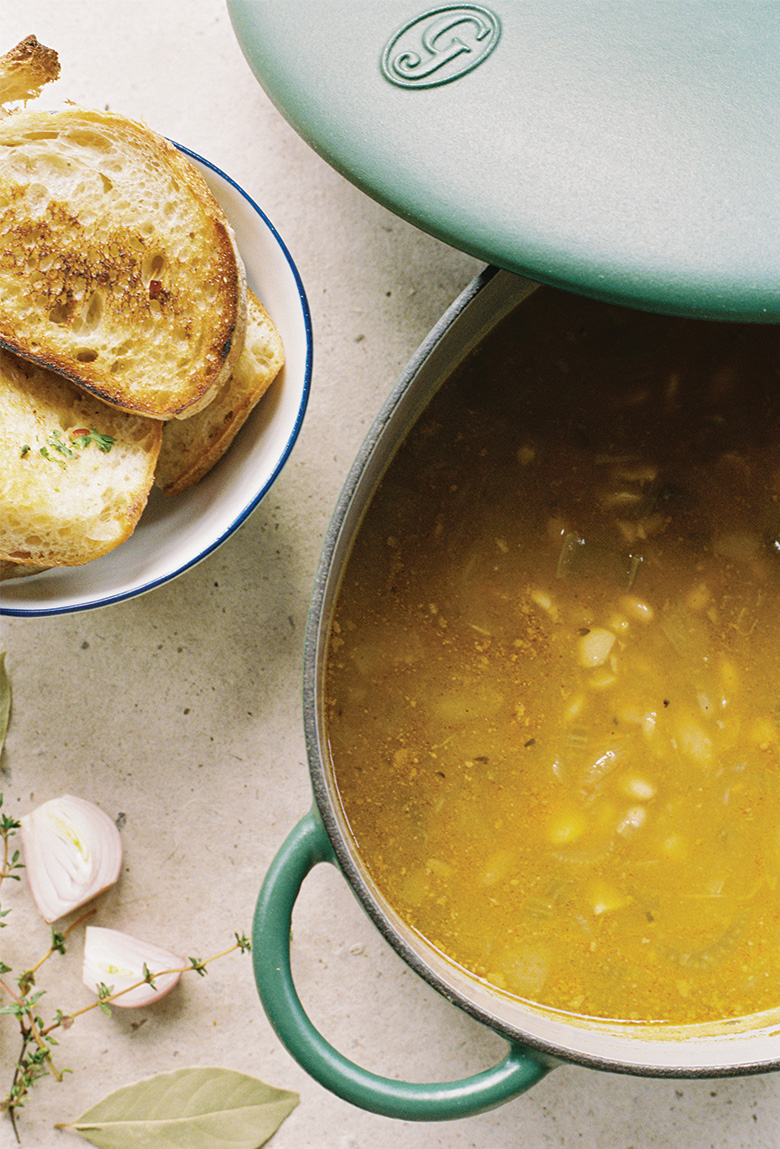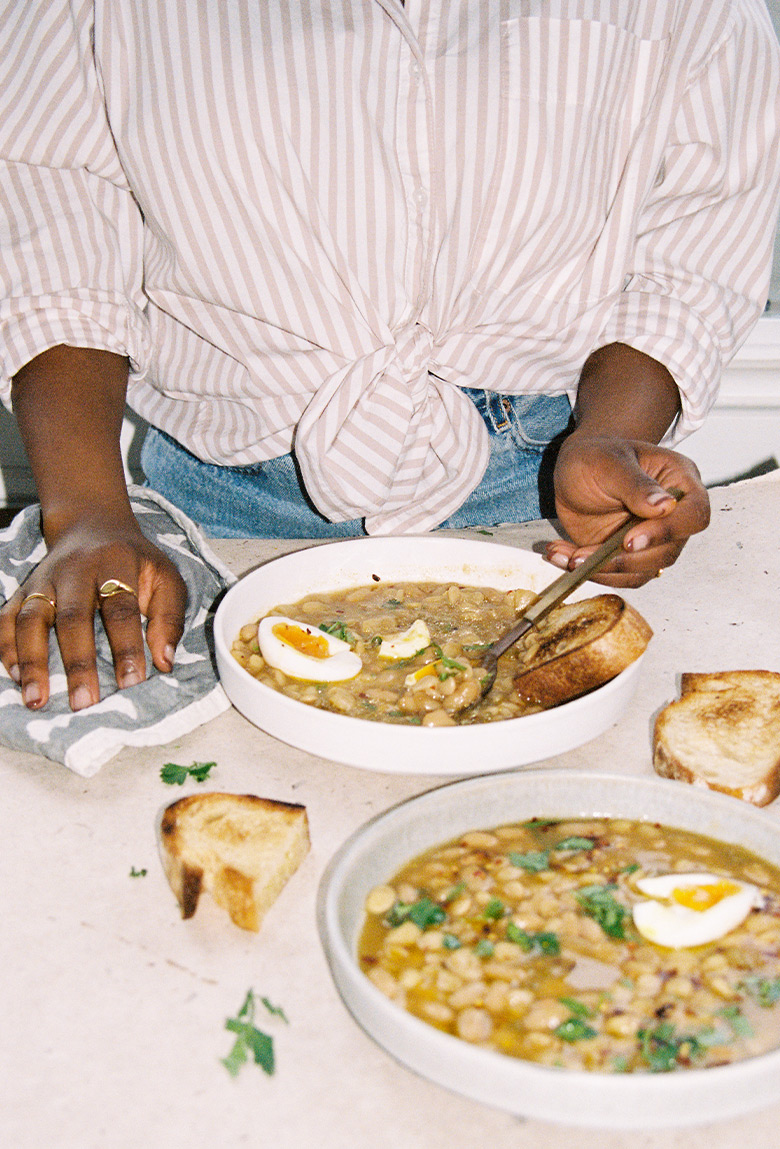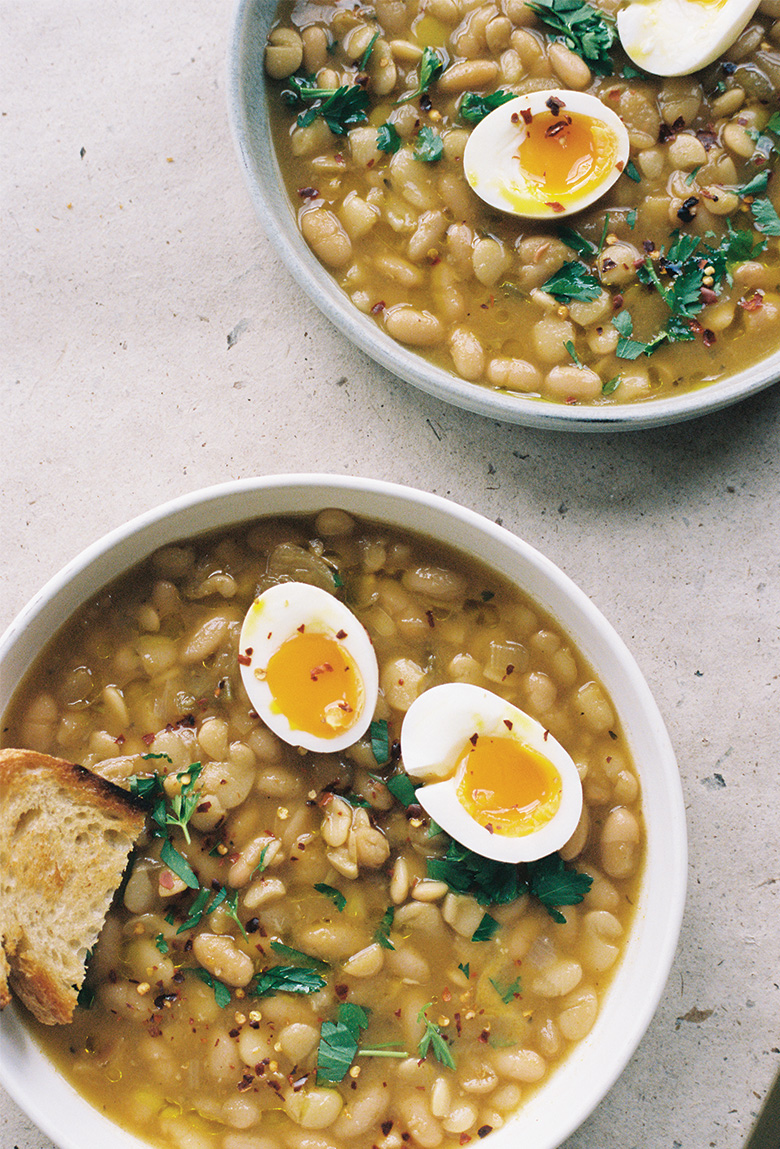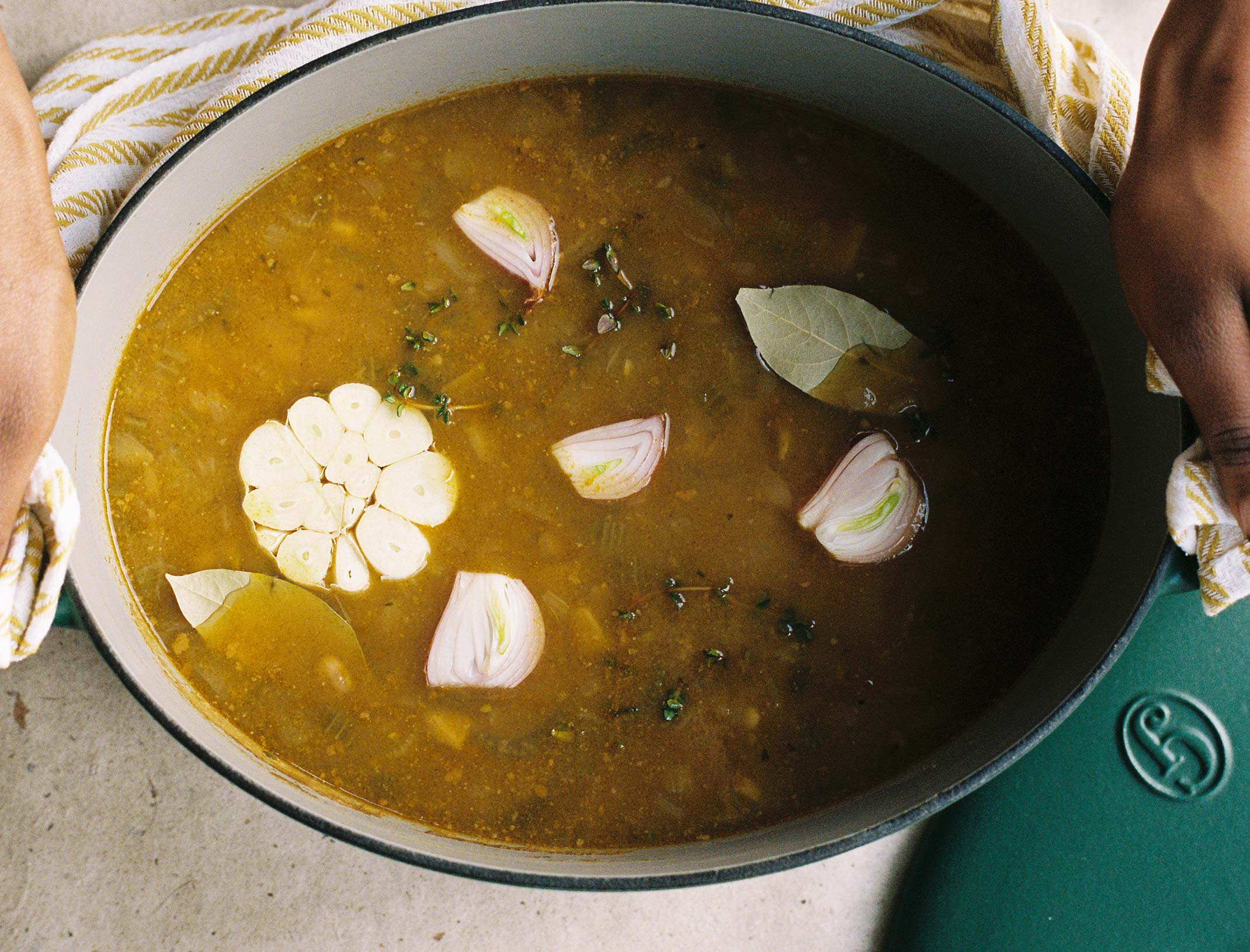 Brothy Beans
Served with a jammy egg and sourdough toast (for wiping your plate clean, of course).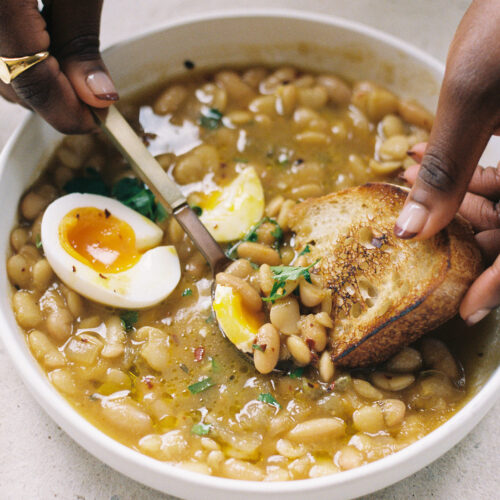 Ingredients
The Beans:
¼

cup

olive oil

3

cloves of garlic,

peeled and smashed

2

stalks of celery,

chopped into ½-inch pieces

2

shallots,

cut in quarters

1

Tsp

freshy ground Black pepper

8

ounce

dried cannellini beans

(such as Marcella beans from Rancho Gordo)

2

bay leaves

2

32-ounce boxes

vegetable stock,

8 cups

10

cups

of water

1 to 2

Tsp

fine sea salt

8

ounce

dried large white lima beans

(such Large White Lima Beans from Rancho Gordo)

1

Tbsp

Better Than Bouillon Vegetarian No Chicken Base paste 

5

sprigs

fresh thyme
Toppings:
4 to 6

jammy hard-cooked eggs,

halved before serving

1

lemon,

cut into wedges

1

small batch flat leaf parsley,

roughly chopped

3

Tbsp

extra virgin olive oil
Instructions
HOW TO MAKE IT
Rinse the dried beans well to remove any debris.

Heat the olive oil over low-medium heat in a large Dutch oven until it shimmers. Next, add the garlic, celery, and shallots to the oven and cook the mixture until it's just lightly browned. Once the mixture is lightly browned, season with the black pepper.

Next, add the cannellini beans, bay leaves, broth, 2 cups of water, and salt. Increase the oven's heat to high. Bring beans to a boil and cook for 10 minutes. After 10 minutes, reduce the heat to low. Simmer the beans, partially covered, for 90 minutes. The beans should be tender but not mushy.

Add the remaining 8 cups of water, lima beans, and Better Than Bouillon Vegetarian No Chicken Base paste, and stir gently. Cover the beans and increase the oven's heat to high. Bring all the ingredients to a boil and cook for an additional 10 minutes. Reduce the heat to low. Add the thyme sprigs. Simmer, partially covered, for 2 hours. The beans are done when they are creamy and translucent. If after 2 hours your beans are still too firm, continue to simmer them, partially covered, for another 20 to 30 minutes. Be sure to check the beans for doneness every 5 minutes or so. The total cooking time, with unsoaked Rancho Gordo beans, is approximately 3½ hours.

Remove the bay leaves and thyme stems and discard.
PUT IT ALL TOGETHER
Serve brothy beans with a lemon wedge, cracked black pepper, a drizzle of olive oil, jammy eggs, and garlic toasts.
More beans to love: We also love Rancho Gordo's Christmas Lima beans for their nutty, savory depth of flavor. The large white lima beans are mild with a traditional lima bean flavor.