The Community Spotlight series highlights Black individuals and entities who are creating healthy, sustainable, and just futures. In this story, Beau Morton (they/he) the Director of Environmental Health and Education at WE ACT for Environmental Justice, a nonprofit that focuses on making sure that environmental policies are regulated for the health, well-being, and quality of life for people of color and low-income communities, shares his journey to environmental justice work, starting with his family's connection to the environment, and brings us to the important work they are leading at WE ACT. This story is a shining example of the ways that Black people are drivers in the environmental movement, and have been committed to conservation, service, and justice for generations.
Rooted in Education, Service, and Conservation
Both sides of my family are from Griffin, Georgia. My parents were actually born in the same hospital four days apart in the same year! My parents were the only ones who moved away to South Carolina. That's where I was raised, but I spent a lot of time in Griffin as a kid at my grandparent's home. On my father's side, we have a history as enslaved folks working in the fields. In the 1980s, my father was one of the last folks in our family to engage in sharecropping as it existed post-slavery. On my dad's side, there's a certain understanding about land—not only how we can benefit from the land but also what we can give back and how we can take care of the land and each other.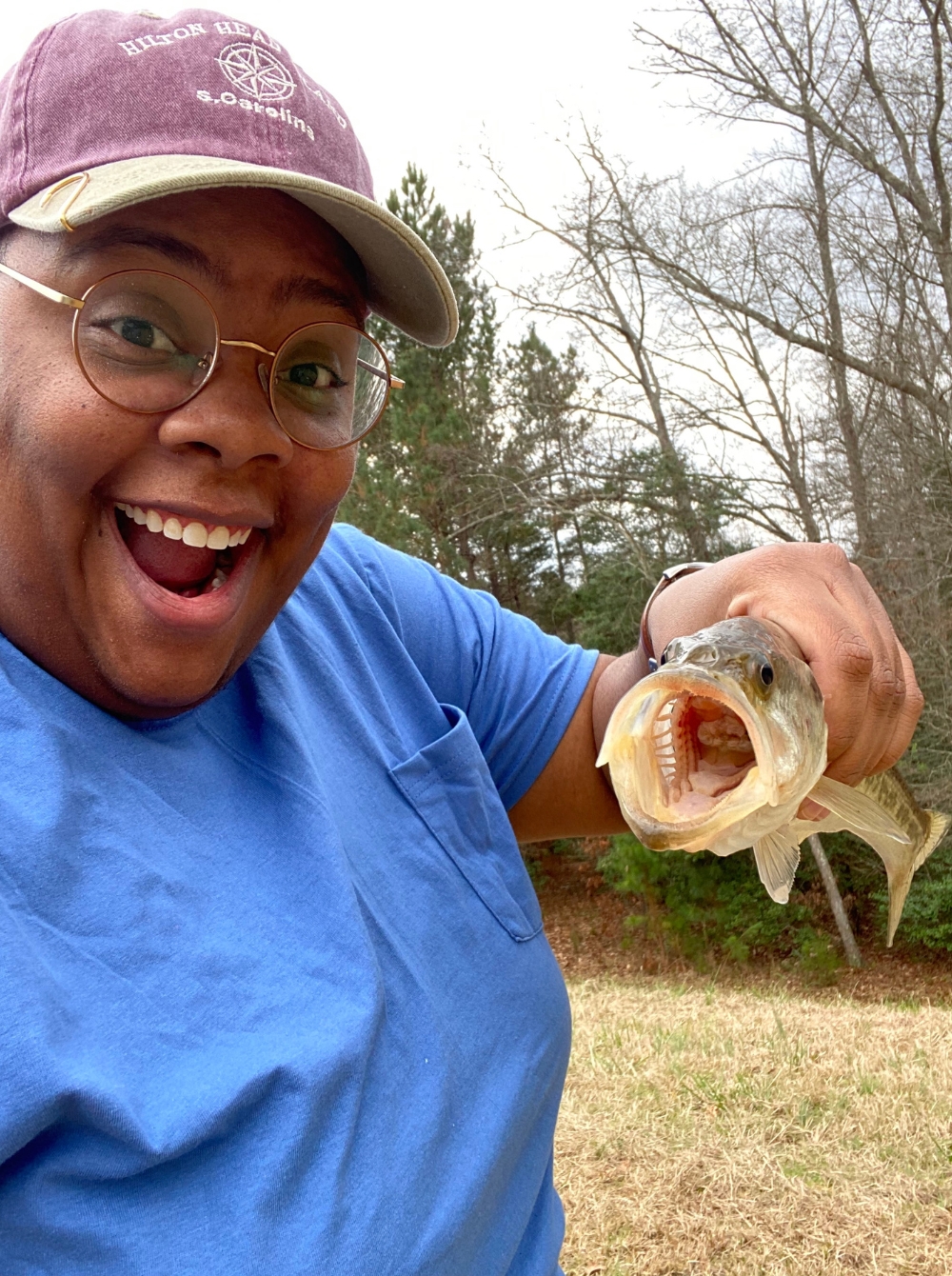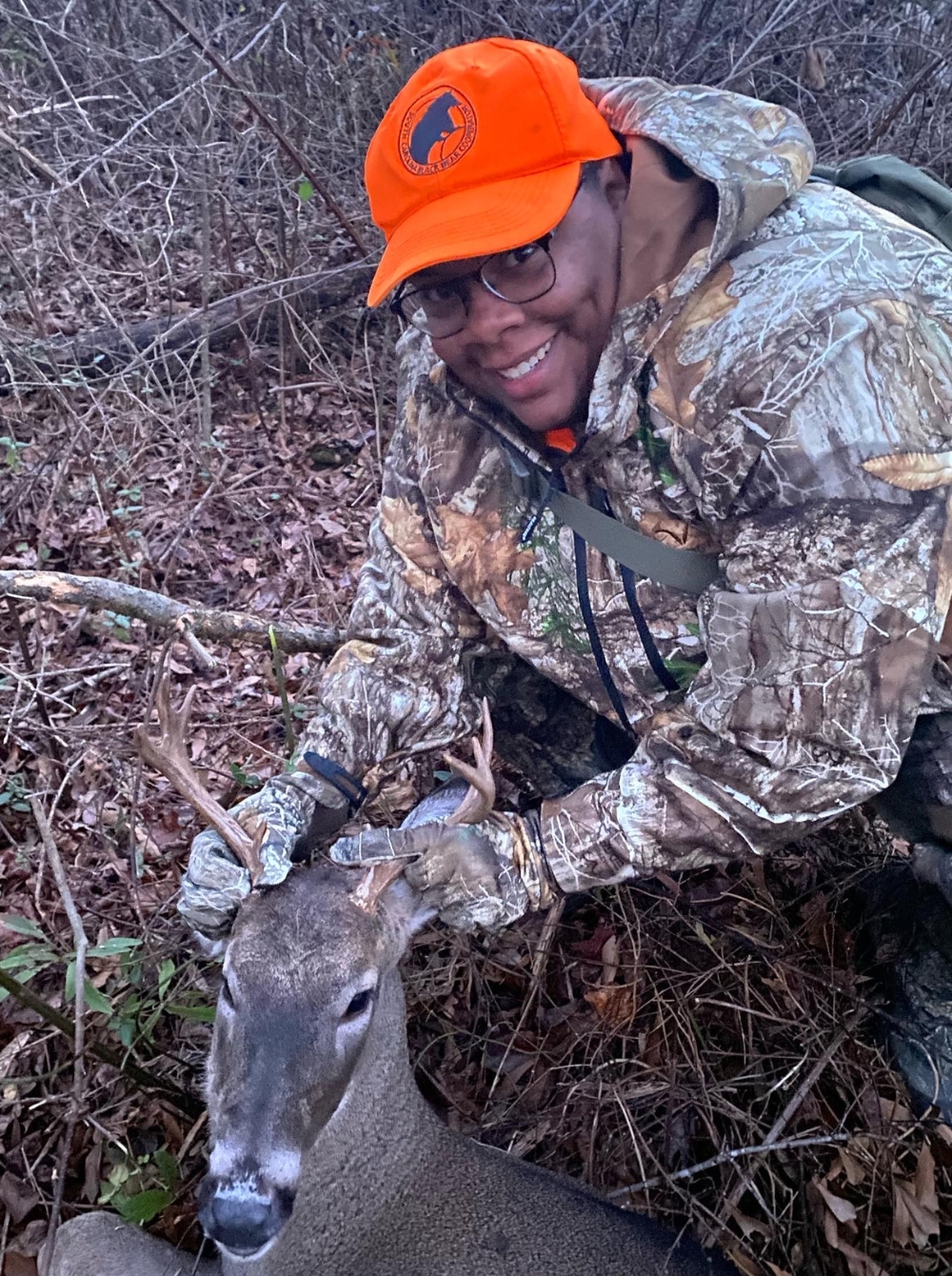 So, growing up, there was a lot of farming, hunting, and fishing. Guns were always a coveted thing in our family—my dad has the gun that my grandfather owned, and one day he'll pass it down to us. My mom's family has its own history of working in textile mills, trying to save up money for the next generation for folks to go to school. Education is really important to them. We have a lot of teachers in my family. My dad was a wildlife biologist at Clemson University in South Carolina for a really long time, and my brother currently works at an agriculture school. We not only value the environment, but we also value education in both traditional and non-traditional ways. When I was going into college, I was thinking that maybe I could work in conservation or the park service.
"On my dad's side, there's a certain understanding about land—not only how we can benefit from the land but also what we can give back and how we can take care of the land and each other."


When I got to Spelman, I hit a turning point toward environmental justice. I couldn't imagine young people not having the experience I had as a young person. We were always outside, ringing around with turkeys and geese and snakes and alligators. You could barely keep us inside. We were always outside playing and getting into stuff and climbing trees. At Spelman, that wasn't the experience a lot of folks had, which made me think more critically about barriers and environmental access. In college, I did a little bit of work at the Georgia Conservancy and went on a couple of backpacking trips at Cumberland Island with some of my Spelman siblings. I also worked at Kennesaw Mountain National Battlefield Park for a while, which is a park that's focused on Civil War history. As an intern, I worked to add more of the environmental aspects to that work. Also, a big part of being at an HBCU is service—serving each other as a community and taking care of each other, so that also intersects well with environmental justice. I had a lot of really wonderful mentors and professors, particularly Dr. Na'taki Osbonrne Jelks, who encouraged me in this direction, so I finished college knowing that I was going to try out environmental justice.
After Spelman, I went to the New School and studied environmental policy and sustainability management in their graduate program. I ended up taking some classes with Dr. Ana Baptista who told me that being in the movement would be some of the best experiences that I'd ever have. So, I applied for an internship at WE ACT for Environmental Justice. I got the job, and it was one of the best things for me. Once I graduated, I moved from intern to fellow, but there wasn't a job opportunity for me at the time, so I got a master's in education from the University of Pennsylvania while I was teaching middle school science at a private school in New York City. Teaching was one of the hardest jobs I ever had. It taught me a lot about emotional intelligence, and it gave me a better look at how education is set up—it gave me a peek into education justice.
I then took a job in Brooklyn at another private school, and a couple of months into the job, something didn't feel right. One of the hardest things I've ever had to do is quit that teaching job mid-year because you can't really hire teachers in the middle of the year and that was the beginning of the teacher shortage. I loved the kids and loved being the teacher kids of color, especially queer kids of color got to see in the classroom. Over my length of teaching, I was still consulting for WE ACT for Environmental Justice and keeping in touch with the Executive Director. So when a job opened in the environmental health department, where I worked as an intern, fellow, and consultant, I took it. I went in as a manager, and when the director position opened, I was promoted to Director of Environmental Health and Education.
Leading the Fight for Environmental Justice
WE ACT is geographically focused in Harlem. We focus on environmental issues at the local, state, and federal levels. We also have a DC office that focuses on federal initiatives. As far as programs, we have—my pride and joy—our Environmental Health and Justice Leadership Training program (EHJLT). It was a project I worked on when I was an intern and what I work on now. We do a lot of education for youth and adults, with the knowledge that a lot of the information about climate and environment, especially as it relates to the justice aspects, is not learned in school. That goes for young people who are in school currently, and it also goes for adults. There are many adults who have gone through formal education that don't know how to, for example, remediate lead and mold issues.
We also have a campaign called Beauty Inside Out, which focuses on the disproportionate exposure and impact that women of color face from products that have toxic chemicals. The danger is especially in things that you put on your face and your body, which impact the reproductive system, hormones, liver, and kidneys. We've seen a lot of cases—like Johnson & Johnson's baby powder—where products later down the line cause health issues. We're doing a survey with women of color and girls of color in the Harlem area to get a better understanding of not only what products are being used but also how Eurocentric beauty standards come into play when we think about the types of products that we choose. We are also involved in building a movement, doing some product testing, and having a lot of educational events.
"If all forms of reparations—emotional, physical, resource-wise—are given, and we are no longer having conversations about what the future could look like, then, we focus on the future!"
We also work on a climate resiliency and education task force that we co-lead with the National Wildlife Federation that focuses on ensuring that young people have access to climate education in New York State schools. And we have done a lot of work in public housing. We focused on the previous mayoral election, making sure that New York City Housing Authority (NYCHA) residents were going to be protected from environmental hazards. We do a lot of general work around public health, making sure that people are aware of different issues, especially as it relates to lead, mold, waste, pests, and pesticides.
I love the work that I do. I wouldn't be doing anything else. As someone who cares a lot about service and working with other people, the justice piece is front and center. Someone asked me, "what happens when there's no more justice work to do." If all forms of reparations—emotional, physical, resource-wise—are given, and we are no longer having conversations about what the future could look like, then, we focus on the future! Hopefully, we get to that point where we don't focus on what it means to be harmed by systems and the environment, and we can move forward and think about what comes next. I think it's fun and scary. We aren't really there yet, but we will get there bit by bit.