The Community Spotlight series highlights Black individuals and entities who are creating healthy, sustainable, and just futures. In this story, we feature Dara Wilson, a Black birder who has spent the past few years exploring the wildlife and nature of the Florida panhandle. In this piece, Dara talks about her path to becoming a birder, birding as a daily practice, and finding community online with other Black birders.
A Journey to Birding
It's funny that I find myself advocating so much for birds, because birds weren't even my jam at first. I fell in love with nature more broadly by accident. During my freshman year at American University in Washington, DC, I did an alternative service-based spring break. Our service project focused on human rights education and we spent a week in Honduras, which was incredibly impactful for me. The following summer, I spent another month in Honduras, continuing the service project on my own—which was actually really valuable because it helped me realize I may not want to do that for the rest of my life.
The next summer, I ended up in Bolivia doing something very different—living and working in the Amazon rainforest. More specifically, I worked at a wildlife sanctuary and walked Pumas through the rainforest. The big cats I worked with couldn't reenter the wild, so they needed to be taken care of by people. And my job for the summer was to be the daily caretaker for Luna the Puma. Before then, I'd never really thought about nature or wildlife, but that experience was my introduction to wildlife conservation.
That summer in Bolivia taught me so much about patience. I looked at plants for the first time, and I heard sounds for the first time, like really heard sounds. That was such a meaningful experience for me that I returned the following summer. When I returned to the states during the school year, I spent my time volunteering and working at the Smithsonian National Zoo in Washington, DC—more specifically the Amazon exhibit. When I worked in that exhibit, I learned about this horrible disease ravaging amphibian populations throughout the world called the chytrid fungus. I was really fired up about it, and that led me to my first job after college which was working in conservation communications at a research station in Panama.
I got into birding while living down in Panama doing frog conservation work. My roommate was an ornithologist (a person who studies birds) ,and he took me under his proverbial wing one day when he asked me to help him out with a project. I thought to myself, sure why not? and that was my first time birding! So my journey went from cats to frogs to birds.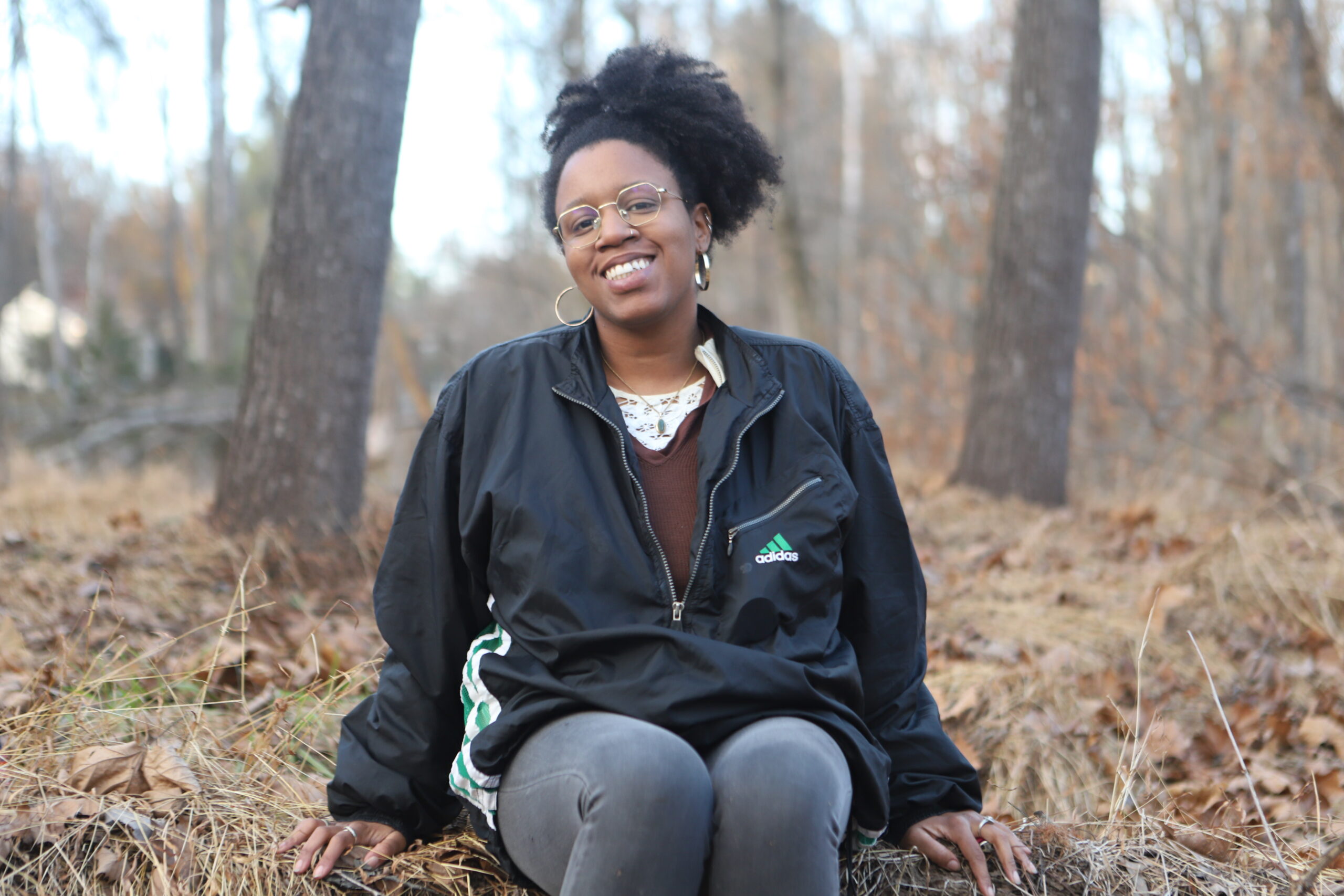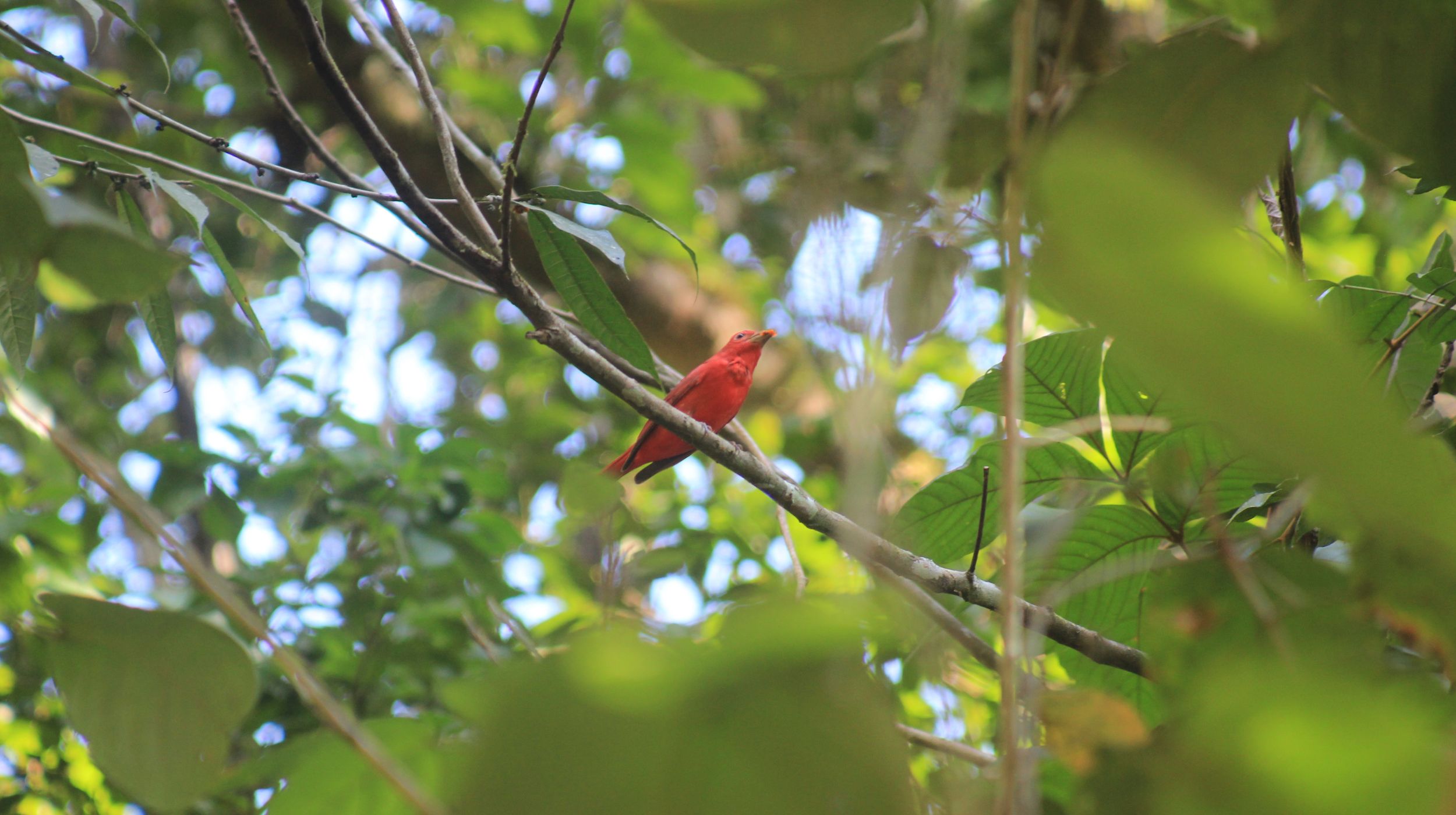 The Spark Bird
My path to becoming a birder was a bit non-traditional. It wasn't something I started doing as a kid or with my family, I didn't start birding until I was in my early to mid-twenties. But the special thing about birding is that it can be a lifelong journey. A person can decide to start birding at any point during their life—all you have to do is go for a walk, grab a pair of binoculars (if you have them), and listen to the sounds around you. Anybody can do this.
Ask any birder, and they'll be able to tell you their spark bird— aka the bird that sparked their interest in birding as a hobby. If your favorite color is purple, maybe your spark bird would be a Purple Martin or a Boat-tailed Grackle. My spark bird is the Blue-gray Tanager, and the reason for that actually traces all the way back to the time I worked at the Smithsonian National Zoo. Although the Blue-gray Tanager is not a common species you'd spot in the DMV, it was one of four or five bird species that were flying around in the exhibit during my time there.
I always had a particular affinity for this bird because of its beautiful, soft-blue gray color and quiet, melodic sound. I just really enjoyed it. When I was thousands of miles away from home in Panama, I heard that melodic sound again when I spotted a Blue-gray Tanager outside of my window. That's when it became my spark bird.
"A person can decide to start birding at any point during their life—all you have to do is go for a walk, grab a pair of binoculars (if you have them), and listen to the sounds around you."
Daily Practice
I live in Tallahassee along the Florida Panhandle, and the house I used to live in was right on the water. I could go outside in my backyard and see Florida Softshell Turtles, Wading birds, Wood Storks, and the occasional Spoonbill—that was a daily practice for me. That location was special because of the different types of birds that could be seen, but one doesn't have to be lakeside to spot awesome birds. There's backyard birding, there's urban birding—it's a hobby you can engage in no matter where you are. When I had an awful job I absolutely abhorred, I would rush home and take my dog out for a walk. We'd go to this spot by the lake, and I'd just sit down and listen to the water. Limpkins, which are large wading birds, were usually nearby. I could always hear them, even when I couldn't see them—that counts as birding to me.
One of my favorite aspects of birding is the meditative intention that goes into it; it's certainly taught me patience. Sometimes when I'm working and decide to take a break and go outside, I can hear this Ruby-throated Hummingbird that likes to come through and visit my Soap Aloe when they're blooming. If I just sit on my porch or in a sunny spot on my driveway and wait five or so minutes, I know the hummingbird will stop by—and then, sure enough, it's right there. That too is birding.
In addition to my regular birding, I will also often take trips to see specific plants or look for certain birds. On a weekly or biweekly basis, I go down to Edward Ball Wakulla Springs State Park, which is home to the largest freshwater springs in the world. Just the other week, I captured a stunning photo of a nesting pair of Ospreys, and spotted a Little Blue Heron. I pretty much try to bird wherever I can.
"There's backyard birding, there's urban birding–it's a hobby you can engage in no matter where you are."
Birding in Community
One of the most rewarding and challenging parts of birding is the community— a lot of people can be unwelcoming, but when you find your people, it can be the best experience. My local community in Florida has been difficult because it's not the most inclusive, which stinks when you're trying to pave your way and make space for yourself and others who look like you. But, then again, when you do find those accepting spaces, it's so special.
Although I've only been able to find community with other Black birders online, I'm not saddened by that—in fact, I'm perhaps oddly hopeful. Before Black Birders Week in 2020, I didn't have that kind of space at all. Although that event emerged from a horrendous incident of racism, I'm so grateful that people collectively recognized it was some bullsh*t, and came together to build a community out of it
I was in a dark place in 2020, and finding a community during Black Birders Week gave me the strength and the energy to pull myself out of that place. All of us care deeply about birding and have faced various oppressions—I've even dealt with an Amy Cooper-like situation myself—and the work we're doing has the potential to impact Black people who aren't birders, but people who simply enjoy spending time in nature. By carving out our own spaces for Black people in birding, we're hoping to also make it easier for our community to feel comfortable exploring the outdoors in other ways too.
Black people have always been outdoors; we've always had a connection with the land. We have a desire to not only experience nature, but to also learn from it, and that's all I want to do. I'm not even the best birder, but I care for birds and I care about the people who bird. As Black people who are cultivating relationships with nature, building a legacy looks like creating spaces for ourselves and each other. But for now, I'm off to sit patiently on my porch to try and catch a glimpse of that Ruby-throated hummingbird.