Welcome to EATS, where we bring you plant-rich recipes and tips for flavorful, sustainable home cooking. Together, we will explore the world of plants, sharpen our kitchen skills, and help create a more just food system. EATS is not about what you can or can't eat, or what you should or shouldn't eat. It's about eating (and cooking) more plants and enjoying every single bite.
Every time I make this recipe, I wonder why I don't make it more often. It is so good and so easy. A frittata is an unpretentious baked egg dish that can be loaded up with different combinations of vegetables, cheeses, and meats. It starts on the stove and is finished in the oven. Frittatas can be served warm, cool, or at room temperature, so they're great for a quick bite on the go. They help clean out the fridge—maybe you've got cherry tomatoes dimpling in the back or half of an onion from Sunday's dinner in plastic wrap. This egg dish can also feed a full house with minimal effort and help you get in some greens in the morning.
When I can, I like to head to the farmers market, grab local eggs, and see what vegetables are in season. If you can make your frittata a "farmers market frittata" with local and seasonal ingredients, I highly recommend it—in my experience, the produce has more flavor and lasts longer. It's also been found that local produce is more nutritious because you are more likely to be consuming produce closer to peak ripeness (which is also when nutrients are at their peak). On top of all of that, farmers markets support land stewards and businesses whose practices are regenerating our environment. If you can't tell by now, I love the farmers market.
But back to the frittata. I always start with a savory base of onions, scallions, or shallots. I layer in green leafy vegetables (like kale, spinach, or chard) or other produce that need to be cooked down—I opt to give them a char. Then, I pour in the egg mixture and sprinkle in ingredients that add pops of flavor, like olives, tomatoes, or feta. I wrote the recipe to include ¼ cup of skyr or Greek yogurt. Adding dairy to your frittata will create a final product that's more bouncy and fluffy. However, it's not necessary. Finally, I finish with flaky salt and herbs and eat with toast or grits.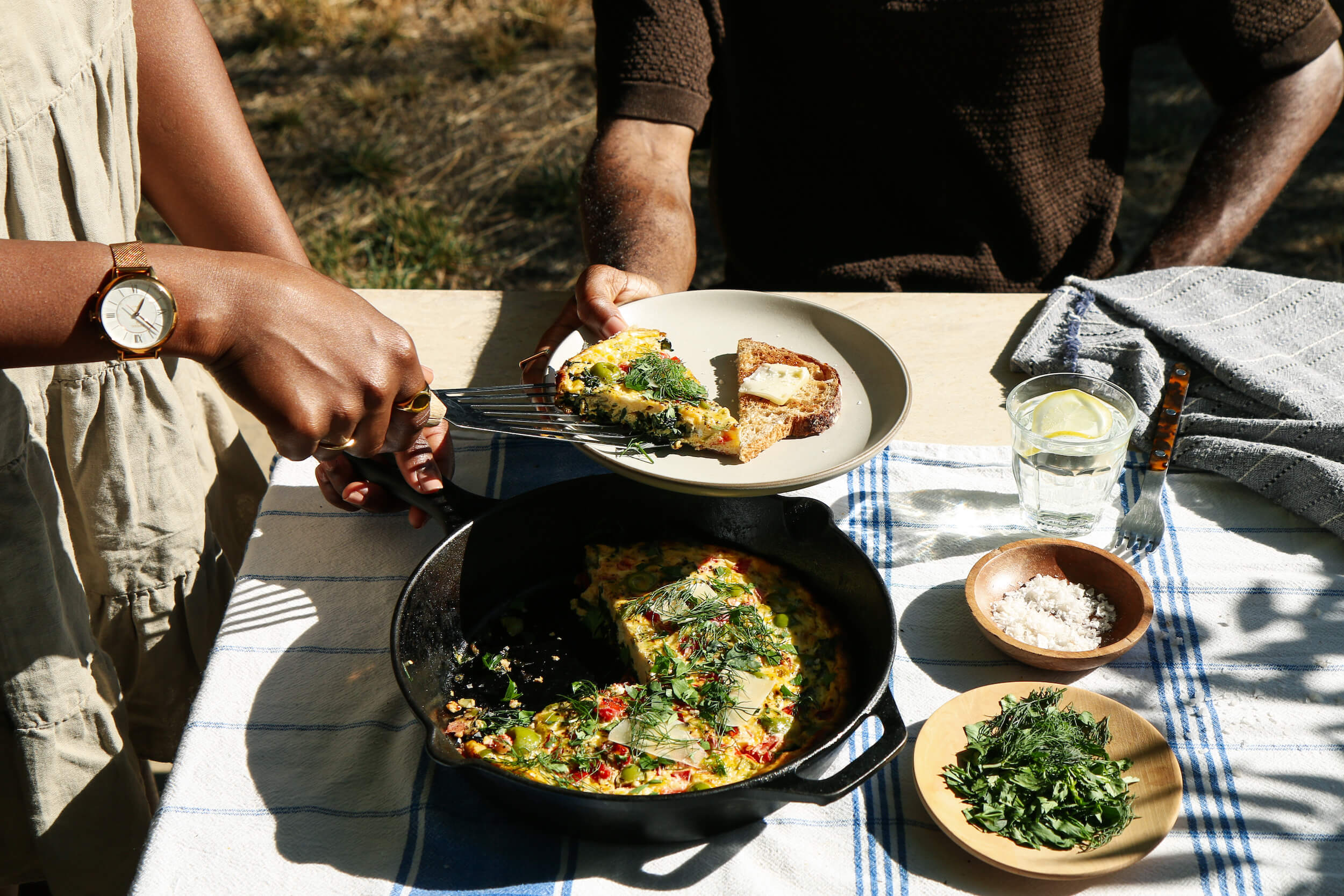 Farmers Market Frittata with Greens and Caramelized Onions
This baked egg dish is layered with flavor and texture from seasonal and local produce.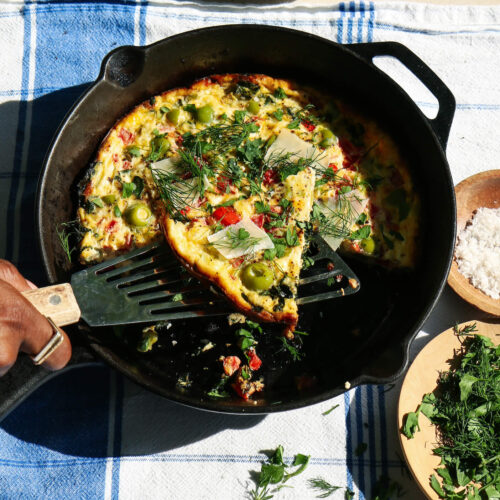 Ingredients
WHAT YOU NEED
8

large eggs

¼

cup

skyr or Greek yogurt (optional)

4

cups

of lacinato "dinosaur" kale (loosely packed), ribs and stems removed, and roughly chopped

½

cup

of red onions (loosely packed), thinly sliced

10

Castelvetrano olives, pits removed and roughly chopped

1

Roma tomato, diced

¼

cup

oil (avocado or olive oil) 

1

Tbsp.

unsalted butter

1

Tsp.

salt 

Pepper to taste

A pinch of flaky salt (optional)

Dill, cilantro, and/or parsley (for garnish), finely chopped
EQUIPMENT
Cast iron skillet or another non-stick oven-safe skillet for stove-to-oven cooking
Instructions
HOW TO MAKE IT
In a large bowl, whisk eggs until fully beaten. If including the optional skyr or Greek yogurt, incorporate it into the eggs. Set aside.

Put a cast iron skillet or another non-stick oven-safe skillet on medium-high heat on the stove. And set the oven to 425°F.

Add the oil to a preheated skillet, followed by the onions, sauteeing until the onions are translucent and picking up a bit of color.

Toss in all of the kale and half of the salt. Cover for 1 minute.

Uncover, mix well, and let the kale and onions cook undisturbed until the kale begins to char and the onions take on a deeper color.

Whisk in the remaining salt into the egg mixture.

Create a hole in the middle of the pan and add the butter.

Once the butter has fully melted and the bubbles subside, pour the egg mixture into the hole.

Turn off the heat and add the tomatoes and olives throughout. Season with pepper.

Place the skillet in the preheated oven and cook for 15 minutes. Cook for an additional 5 to 10 minutes if the center is still loose. Once the center is slightly firm, remove from the heat and let it rest for 10 minutes.

Serve topped with flaky salt and herbs alongside buttered toast or grits.
Notes
Use a sealed container or plate covered in plastic wrap for this recipe and store in the fridge for up to 4 days.