Welcome to EATS, where we bring you plant-rich recipes and tips for flavorful, sustainable home cooking. Together, we will explore the world of plants, sharpen our kitchen skills, and help create a more just food system. EATS is not about what you can or can't eat, or what you should or shouldn't eat. It's about eating (and cooking) more plants and enjoying every single bite.
Hot days require cool drinks—the kind that you can sip on slowly because they stay chilly for longer than five minutes even on the most sweltering days. This Strawberry Watermelon Cool-Me-Down skips the ice (too diluting) and opts for frozen strawberries (sweet and icy) to keep things frosty.
This Cool-Me-Down relies heavily on fruit for its sweetness. The riper your watermelon, the less sugar you will need, so go ahead and have a slice or two of your melon to see where things are. If you want a drink on the sweeter side, two tablespoons of sugar should do it. If you feel like things end up sweeter than you'd like, an extra splash of club soda and lime juice will take care of it. The pinch of sea salt helps bring this drink into balance and helps keep you hydrated.
We like to pour this drink into individual glasses to serve but if you're about that pitcher life, transfer the strawberry watermelon mixture to a drink container that can hold at least eight cups and add one cup club soda. Add a few extra whole frozen strawberries to keep things chill.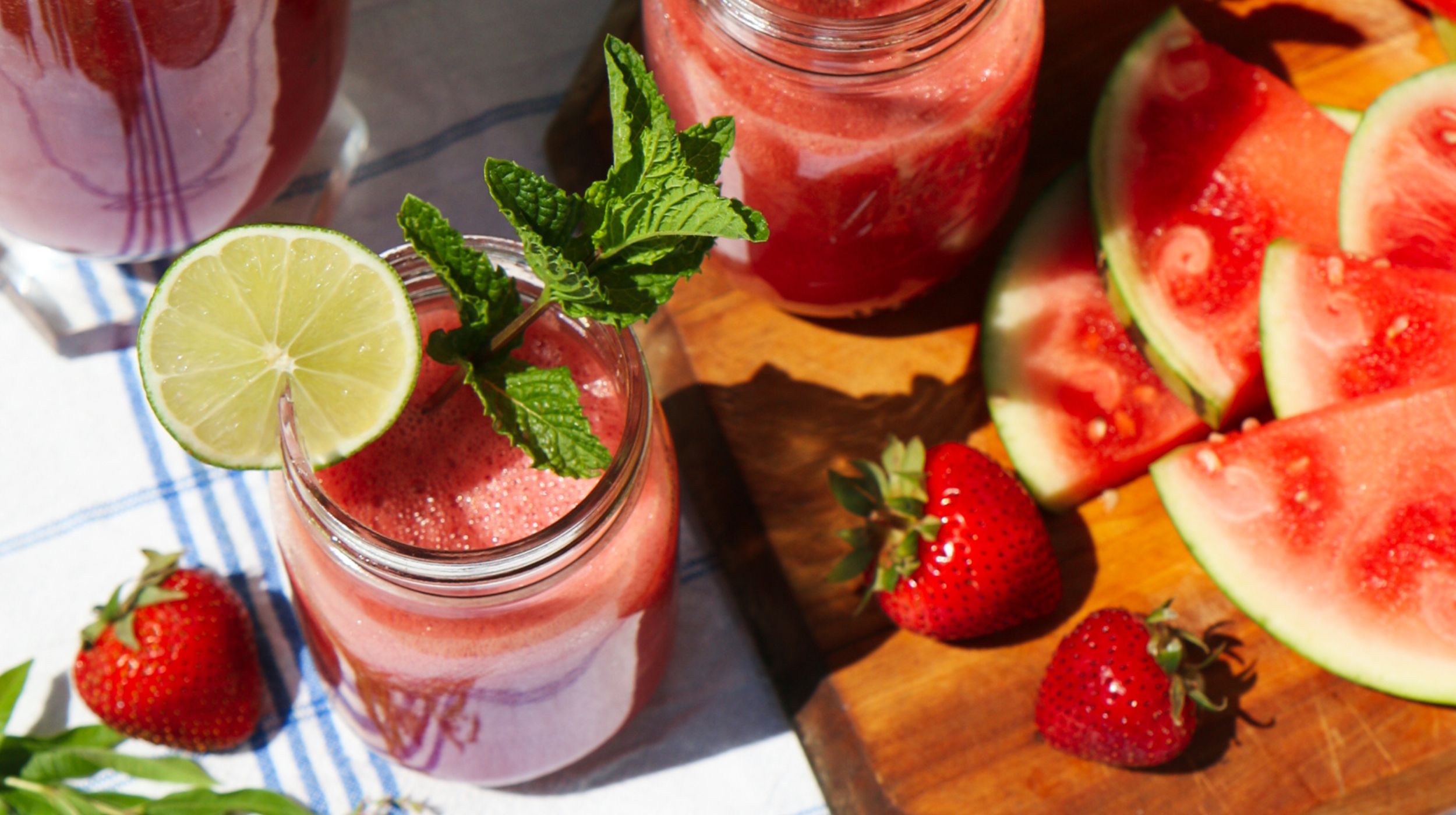 Strawberry Watermelon Cool-Me-Down
Hot days require cool drinks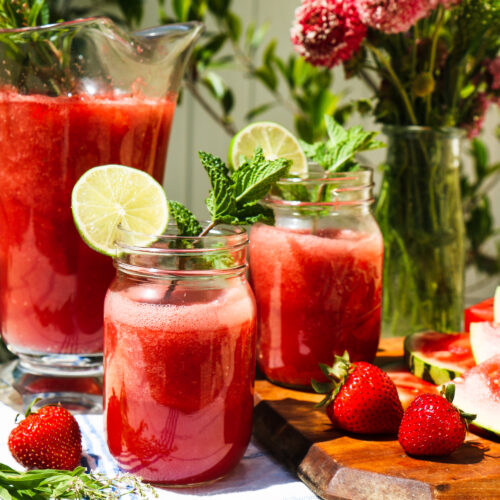 Ingredients
What You'll Need
4

cups

chopped watermelon, chilled

2

cups

frozen strawberries

1-2

Tbsp.

sugar

1

Tbsp.

lime juice

(half large lime)

5

mint leaves plus more serving

Pinch

of sea salt

Club soda
Instructions
How to Make It
In a blender add watermelon and puree until smooth. Add the frozen strawberries, 1 Tbsp. of the sugar, lime juice, mint leaves, and pinch of salt. Blend until smooth. Taste. Note: If you prefer a sweeter drink, add the remaining sugar and blend again to combine.

For individual serving, pour 6 ounces of the strawberry watermelon mixture to a tall glass and top with 1 to 2 ounces of club soda. Stir to combine. Top with a mint leaf.