Welcome to EATS, where we bring you plant-rich recipes and tips for flavorful, sustainable home cooking. Together, we will explore the world of plants, sharpen our kitchen skills, and help create a more just food system. EATS is not about what you can or can't eat, or what you should or shouldn't eat. It's about eating (and cooking) more plants and enjoying every single bite. This recipe is by Breanna Danielle (@plantbasedbre), a recipe developer, food writer, and content creator who specializes in plant-forward dishes.
This dish is a simple plant-based lunch or dinner option developed with convenience and access in mind. In this recipe, I use canned beans, carrots, and dairy-free yogurt to create a flavor-forward dish that leaves you feeling nourished and satisfied. Carrots are one of the most popular vegetables used in homes worldwide, coming in as the second most popular vegetable behind potatoes. Not only are carrots easily accessible and affordable, but they are also highly versatile. I keep carrots in my kitchen year-round and alternate preparation styles based on the time of the year. You can enjoy carrots sweet or savory, roasted or blanched.
In this recipe, I pair roasted tri-color carrots with a delicious dairy-free yogurt sauce and navy bean salad. For the navy beans, you can certainly start with dried beans if you have the time, but canned beans are a great pantry staple option with a long shelf life. This recipe is great for summer nights and early autumn days when you want something filling but not too heavy. This dish was inspired by carrots labneh, using North African flavors such as sumac and harissa. Fresh herbs bring the dish together in a beautiful way. The recipe calls for cilantro and flat parsley because they're easy to find and they pair well with the mild flavor of navy beans. The combination of roasted carrots and navy beans offers the perfect bite with the firmness of the carrots and the soft velvet-like texture of the navy beans.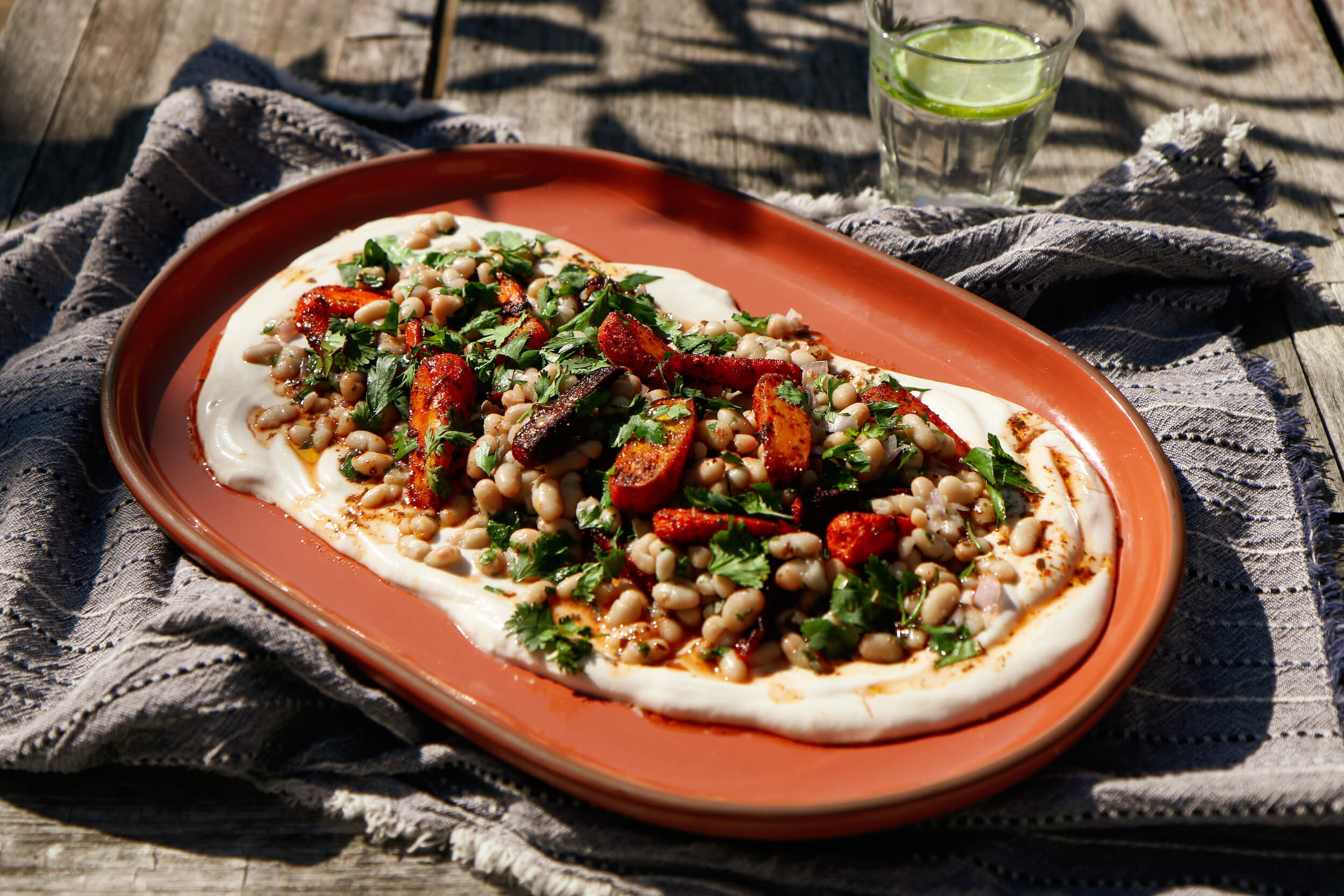 Harissa Roasted Carrot and Herby Navy Bean Salad
The perfect meal for when you want something light yet flavorful.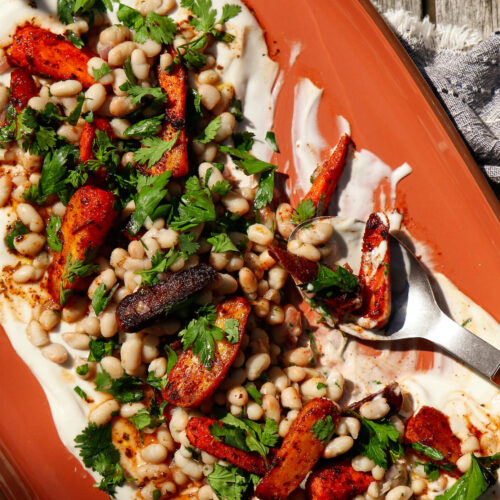 Ingredients
Yogurt Sauce:
1

cup

vegan unsweetened plain dairy-free yogurt

¼

cup

tahini

½

large lemon, juiced

Add salt to taste
Carrots:
5

to 7 small tri-color carrots or 3 to 4 medium tri-color carrots, unpeeled, chopped diagonally

1

Tbsp.

Avocado oil

1

Tsp.

smoked paprika

½

Tsp.

sumac

½

Tsp.

harissa

Add salt and black pepper to taste
Navy Beans:
1

cup

navy beans, strained, rinsed, and patted dry

1

small shallot, diced

1

Tbsp.

Fresh cilantro, chopped

1

Tbsp.

Fresh flat parsley, chopped

½

Tsp.

garlic powder

½

large lemon, juiced

Add salt to taste
Harissa Dressing (optional):
1

Tbsp.

harissa paste

3

Tbsp.

champagne vinegar Note: Can substitute with apple cider vinegar or white wine vinegar

1

Tbsp.

maple syrup

2

Tbsp.

avocado oil or EVOO
Instructions
HOW TO MAKE IT
Preheat your oven to 350 degrees fahrenheit.

Take your washed carrots and, if using medium carrots, cut them diagonally. If you are using small carrots, keep them whole. In a medium bowl, add your carrots, avocado oil, salt, pepper, and smoked paprika. Mix well so the carrots are evenly coated.

Place the seasoned and oiled carrots on a baking sheet and roast for 25 minutes or until charred.

Let the carrots cool for about 12 minutes.

To make the bean salad, combine navy beans, shallot, fresh cilantro, salt, garlic powder, and lemon juice in a bowl. Mix well and let the salad sit for at least 10 minutes.

To make the yogurt base, combine yogurt, tahini, salt, and lemon juice in a small bowl. Mix well.

To plate, first, add an even layer of the yogurt sauce to a plate or shallow bowl. Then, add the roasted carrots and navy beans. Drizzle harissa dressing on top and finish with fresh cilantro and parsley.