This recipe was originally published in the first issue of Radicle, our interactive print publication which centers Black voices and perspectives in sustainability and the environment. Radicle explores a range of topics including environmental justice, indigeneity, sustainable homebuilding, and plant-forward home cooking. The publication was designed to spark curiosity and celebrate community, all while healing our people and the planet.
Put this on everything! On ice cream, on oatmeal, on waffles, and—my favorite—on sourdough pancakes. The balance of sweetness and tartness in this compote makes it such a good topping. With only three ingredients, this quick recipe can take any brunch to the next level.
— Darel Scott, Earth in Color Founder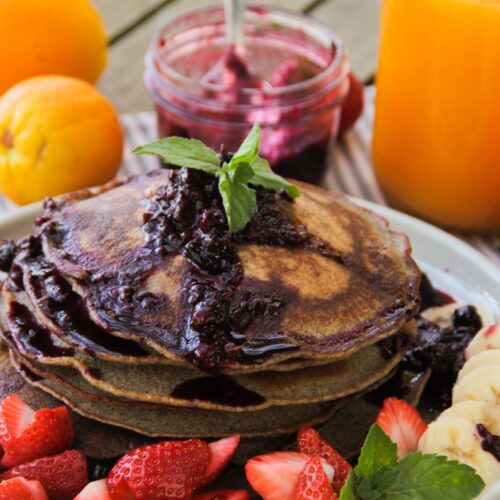 Ingredients
WHAT YOU'LL NEED
8

Oz.

Berries,

fresh or frozen

¼

Medium-sized orange,

juiced

2

Tbsp.

maple syrup or honey
Instructions
HOW TO MAKE IT
Combine all ingredients into a saucepan and bring to medium-high heat.

Once bubbling, immediately reduce to low-medium heat to softly simmer.

Simmer for 10 to 15 minutes, stirring and mashing every 5 minutes.

Note: You want your compote to softly simmer. You don't want to heat it too rapidly because it can begin to caramelize and possibly burn. You can mash all of the fruit to produce a smoother more homogenous compote OR you can leave some fruit bits for a lumpy compote. I like mine smoother, but it is really up to you!

Serve on top of ice cream or pancakes. You may add ginger, seeds, herbs, or cinnamon. Get creative! 
Notes
I like to mix two or more different berry varieties because they bring different flavors and textures to the final compote.