Welcome to EATS, where we bring you plant-rich recipes and tips for flavorful, sustainable, home cooking. Together, we will explore the world of plants, sharpen our kitchen skills, and help create a more just food system. EATS is not about what you can or can't eat, or what you should or shouldn't eat. It's about eating (and cooking) more plants and enjoying every single bite. This recipe is by Talia Moore, Earth in Color's Design + Production Lead, food justice community organizer, multimedia artist, and home cook.
When it's summertime and the temperatures are rising and continuing to rise on our warming planet, the last thing you want to do is turn on your oven. This seasonal galette is both simple and delicious. A galette, is a French term used to describe a free-formed crusted cake or pie. Baking can often be a challenge for beginners, but this recipe is pretty fool-proof. One of my uncles is the king of desserts in our family. So whenever I bake, I turn to him for reassurance that my measurements sound okay—even when I've made something a hundred times. The four ingredient dough recipe is versatile enough for any of your crust needs, and the summertime fruit-filling will speak for itself. Serve this light and perfectly sweet dish when hosting family and friends, or enjoy the tasty treat by yourself.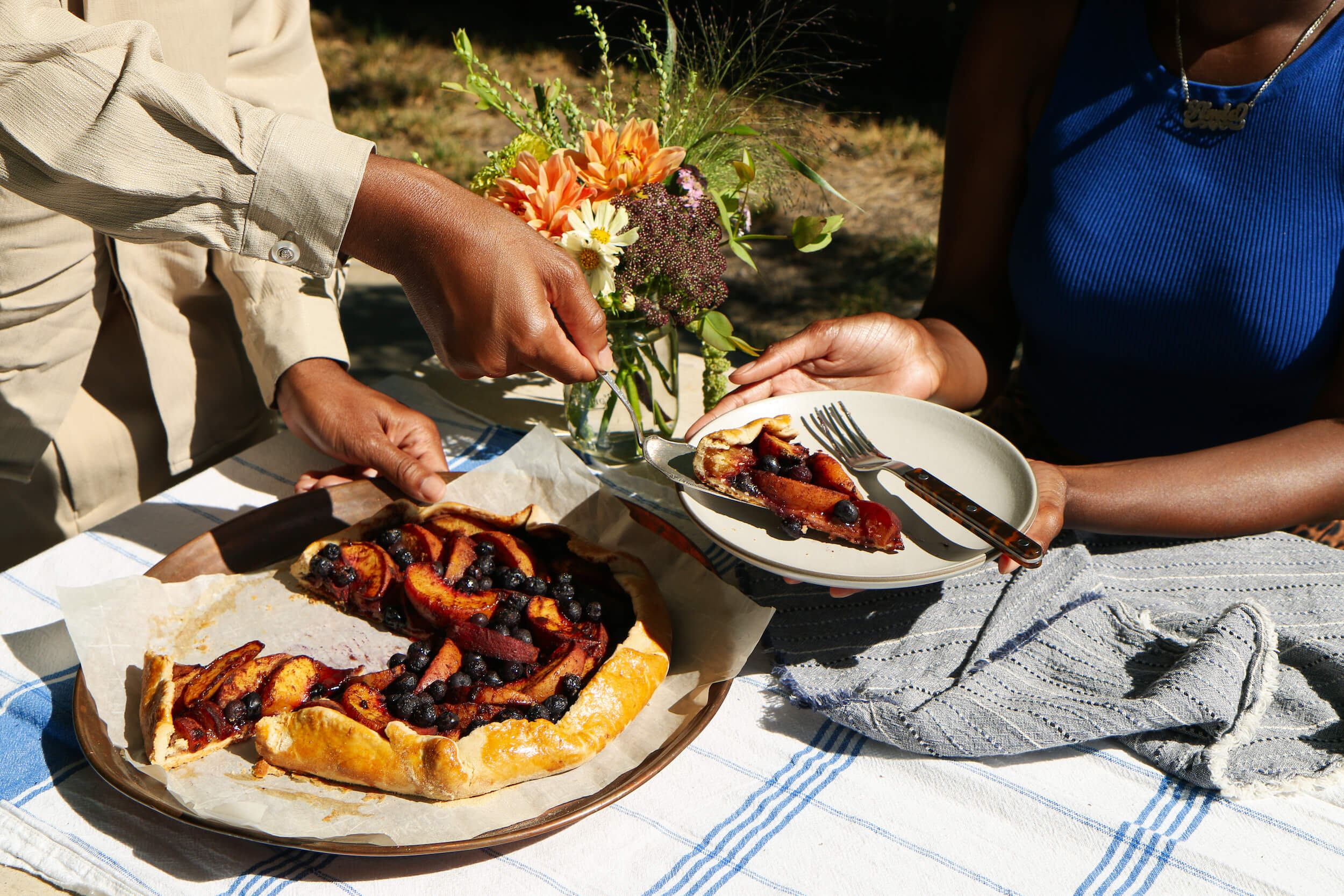 Peach and Blueberry Galette
A simple treat to let your summertime fruit speak for itself.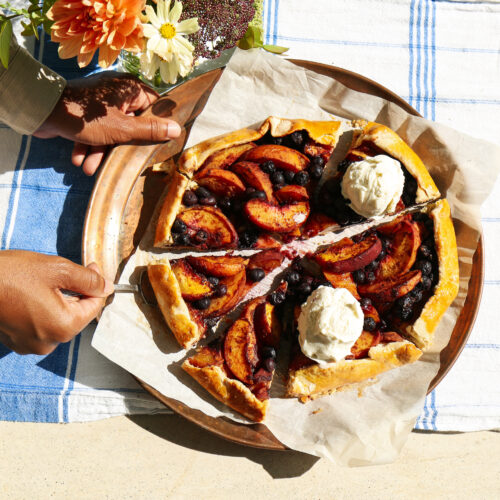 Ingredients
Crust:
2

cups

of all-purpose flour

1

stick of cold butter

1

Tbsp.

of granulated sugar

5

Tbsp.

of ice cold water Note: You may need more or less depending on the consistency of your dough

1

egg (optional for egg wash)
Fruit Filling:
3

medium golden peaches

1

cup

of blueberries

¼

cup

of granulated sugar

1

Tbsp.

of all-purpose flour

1

Tbsp.

of cinnamon

½

Tsp.

of cardamom

½

Tsp.

of nutmeg 

2

Tsp.

of vanilla extract

The zest of one medium lemon
Instructions
Make the dough:
For the dough, you'll want a 2:1 ratio of flour to butter. Start with 2 cups of flour to one stick of butter. Even if you want to increase the serving or cut it in half, keep that ratio in mind.

Sift your flour into a medium-size bowl and add the sugar.

Cut your stick of butter into ½ inch cubes and add it to your flour mixture.

Mash the butter into the flour with a fork. You'll want the butter to come out to about the size of a pea. Note: I use a rustic approach to this method. Feel free to use a food processor or pastry cutter to combine the flour and butter.

Add in your ice water one tablespoon at a time and begin kneading the dough.

Repeat this step until your dough holds together.

Form your dough into a ball, making sure it's an even consistency and doesn't stick to the sides of the bowl. Refrigerate it for at least one hour or overnight.
Make the fruit filling:
The beauty of this recipe is that you can use whatever fruit may be in season. For this recipe, I used golden peaches at the farmers market and combined them with blueberries for a mix of flavors and color.

Cut your peaches into ½ inch slices.

Place peaches and blueberries into a bowl.

In a small bowl, combine sugar, flour, and spices.

Pour dry ingredients over the mixed fruit.

Add vanilla extract and the lemon zest to the bowl.
Make the galette:
The joy of a galette is that the recipe is nearly identical to a pie crust with room for presentation flaws. We ain't looking for perfection here.

Preheat your oven to 400 degrees Fahrenheit.

Place parchment paper across a sheet pan and dust with flour.

Roll out your dough on the parchment paper. Note: Elbow grease is required for this one if you've left it refrigerating overnight. Your edges don't need to be perfect. To achieve a flakey crust, fold your dough once or twice as you roll it out to add layers. It should be about 12 inches wide when you're finished.

Add your fruit filling to the center of the dough, leaving an inch or two of space around the edges for you to bring your crust over the filling. Once you've added your filling, fold over the edges and pinch them together, repairing any cracks that you may see.

Brush the crust with an egg wash and place your pan into the oven for 30 minutes. When your galette is ready, the fruit juices should be bubbling and the crust a nice golden-brown color.

Let your galette cool for 15 minutes before serving. Serve with a scoop of vanilla ice cream. Enjoy!