Welcome to EATS, where we bring you plant-rich recipes and tips for flavorful, sustainable home cooking. Together, we will explore the world of plants, sharpen our kitchen skills, and help create a more just food system. EATS is not about what you can or can't eat, or what you should or shouldn't eat. It's about eating (and cooking) more plants and enjoying every single bite.
When cookout season kicks off, everyone gets in line for their first burger of the summer. If you're looking to make that a veggie kind of situation, we'd like to introduce you to the easiest, tastiest one you can make. These portobello mushroom burgers rely on the condiments that will already be at the cookout. A 1:1 ratio of mayo, ketchup and mustard, along with a splash of dill pickle juice creates a hybrid marinade sauce that does everything from season the mushrooms to serve as a sauce when you're building the burger.
Like any burger, we say build it how you like it. To keep things fully plant-based, opt for a vegan mayo and vegan cheese. Want sliders? Use cremini mushrooms also known as baby portobellos and build them on King's Hawaiian buns. If you're feeling extra hungry, stack two mushrooms on top of each other and go for a hunger-busting double cheeseburger. No matter how you stack it up, this burger with its smoke-kissed flavor and super simple secret sauce might just steal the limelight at the cookout.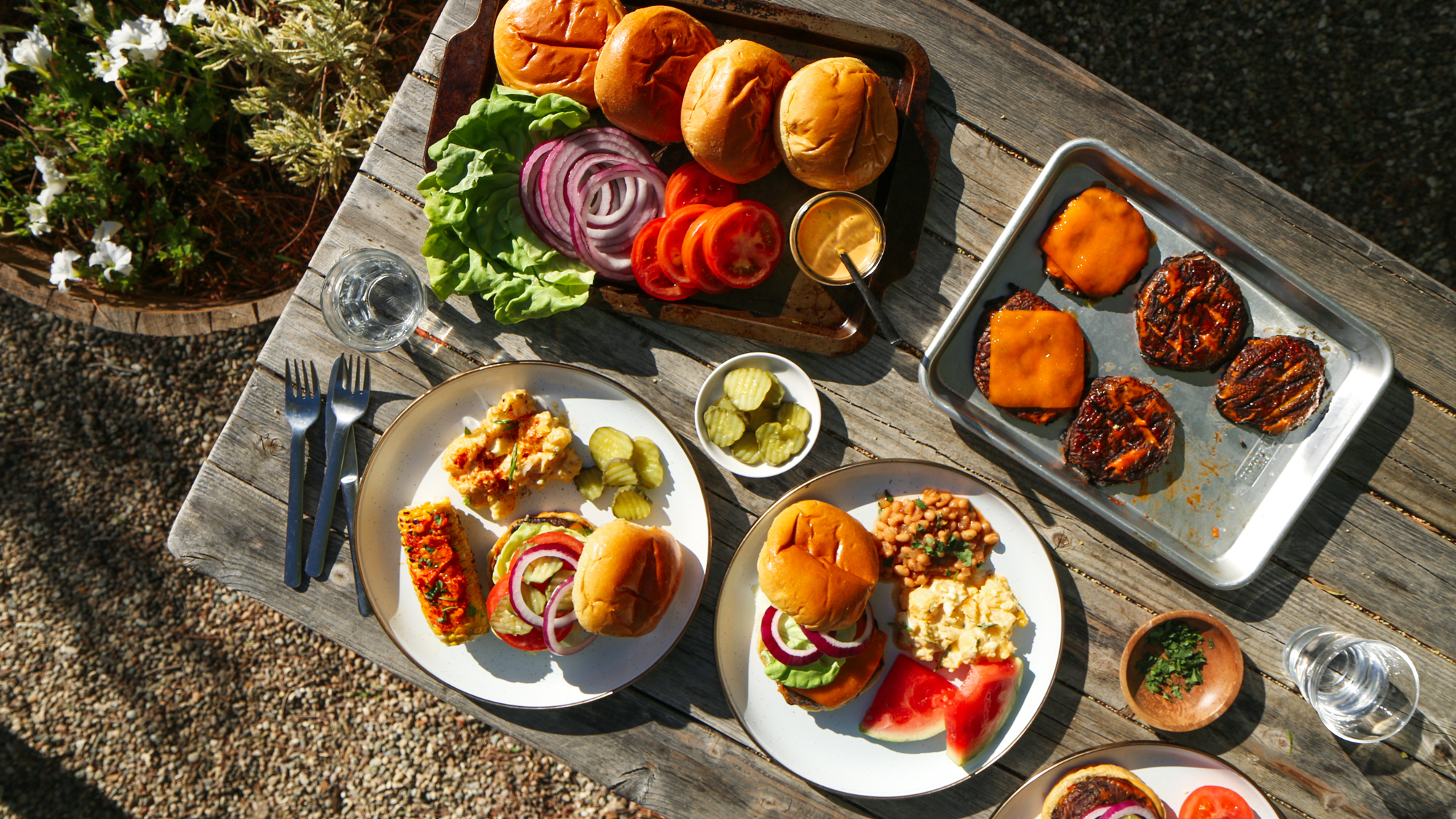 Smoke-Kissed Portobello Cheeseburger
This isn't a burger alternative. This is just a good burger. Period.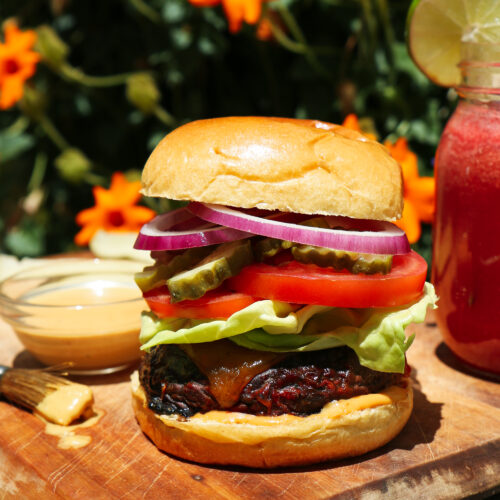 Ingredients
WHAT YOU'LL NEED
8

large Portobello mushrooms,

wiped clean with stems removed

Salt to taste

½

cup

ketchup

½

cup

mayo

½

cup

yellow mustard

1

Tbsp.

dill pickle juice

8

cheese slices such as cheddar, american, or Provolone

8

Brioche buns

Tomato slices

Red onion slices

Pickle slices
Instructions
HOW TO MAKE IT
Heat a grill to medium high. The grill is ready when you can hold your hand over the grates (about 1 foot above) for no more than a 5-second count.

Add the mushrooms to the grill, gill-side up. Sprinkle each cap with salt. Close the hood and grill for 8 to 10 minutes.

Meanwhile in a large bowl, combine the ketchup, mayo, mustard, and pickle juice. Mix well and set aside close to the grill.

After about 10 minutes, open the grill. Liquid will have accumulated in the cap. Using grill tongs, gently pour the liquid off each mushroom into the ketchup mixture. Return each mushroom to the grill, gill side down.

Mix the ketchup mixture to incorporate the mushroom liquid. Using the tongs, dunk each mushroom in the ketchup mixture until generously coated and return to the grill, gil-side up. Grill uncovered for 2 minutes. Flip the mushrooms and cook 2 minutes more.

Add slices of cheese to the mushrooms. Place buns on the top rack of the grill to toast. Close the hood and grill for 1 to 2 minutes or until the cheese is bubbly and melted and buns are warm.