Welcome to EATS, where we bring you plant-rich recipes and tips for flavorful, sustainable home cooking. Together, we will explore the world of plants, sharpen our kitchen skills, and help create a more just food system. EATS is not about what you can or can't eat, or what you should or shouldn't eat. It's about eating (and cooking) more plants and enjoying every single bite.
Fresh dill, a batch of seasoned roasted chickpeas, and a dollop of mayo get mixed together to make this super fast, very flavorful plant-based sandwich spread that can last up to a week in the fridge. Make this recipe once and you'll be ready to try out new ways to make it your own. Want it spicier? Add a dash of hot sauce. Not feeling like a sandwich? A scoop of this is excellent on a salad or over a bed of rice. And because it lasts up to a week in the fridge, it's a great recipe to make on a Sunday for easy lunches and quick dinners all week long. Your future self is already thanking you.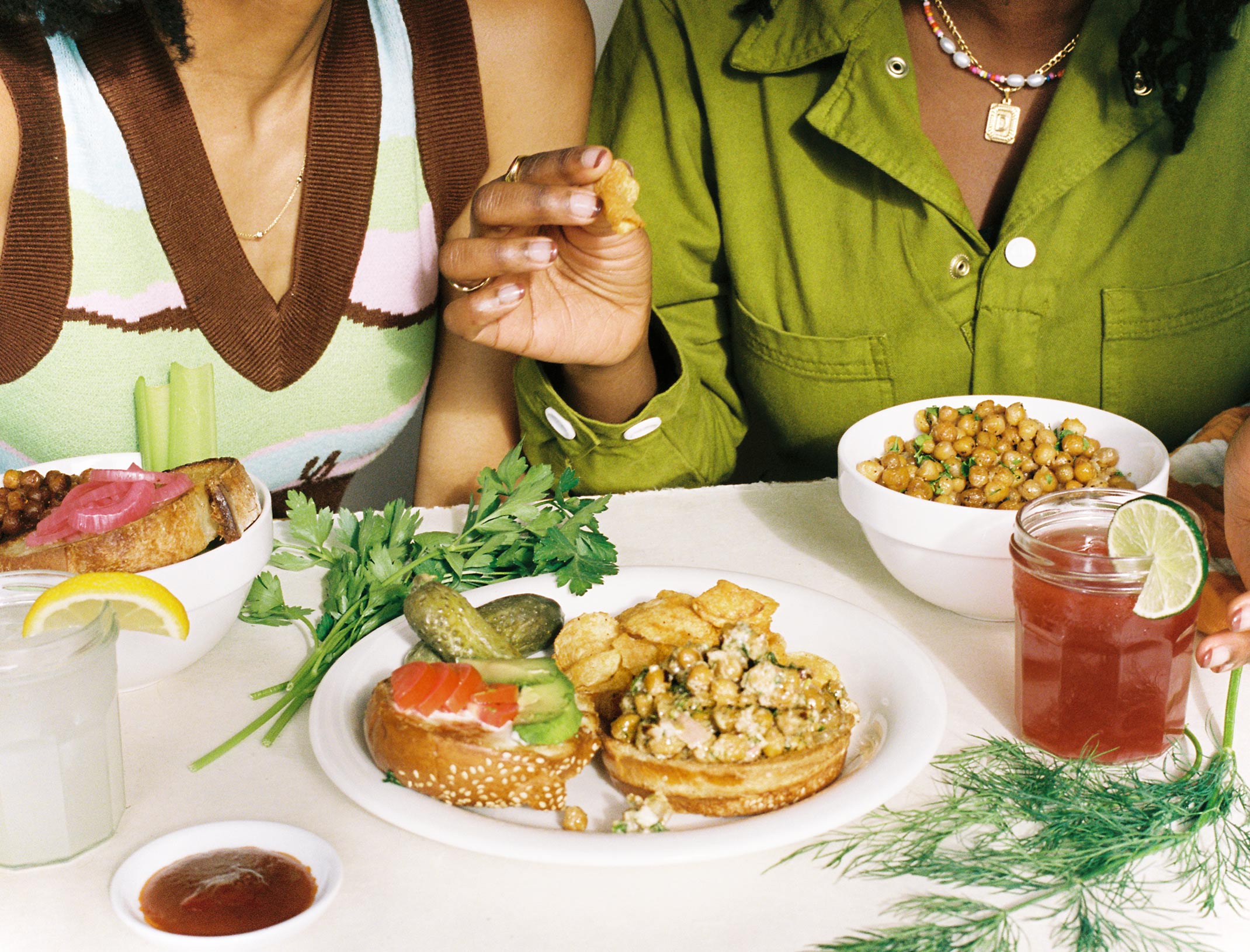 Dill Chickpea Salad
A simple recipe with flavors and textures that are anything but simple. This'll become your weekly go-to.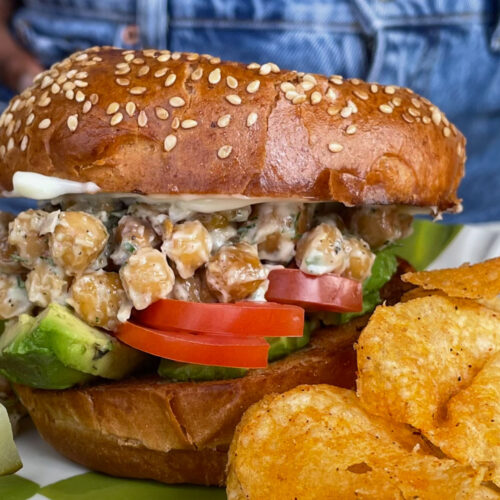 Ingredients
WHAT YOU'LL NEED
1

batch

Seasoned Roasted Chickpeas

1

Tsp

granulated onion

1

Tsp

granulated garlic

1

Tsp

chili flakes

¾

cup to 1 cup

traditional, vegan or avocado oil based mayonnaise

½

bunch

fresh dill fronds,

roughly chopped

1

Tsp

salt

½

Tsp

freshly ground black pepper

1

large or 2 small shallots, minced,

optional
Instructions
HOW TO MAKE IT
If using shallots, slice thickly and soak in water for 15 minutes to reduce the sharp taste. Drain the shallots well and mince.

In a large bowl, mash or roughly chop the roasted chickpeas, leaving visible chunks and a few whole beans for texture. Be careful not to over-mash the chickpeas to avoid them becoming too creamy. Add in mayonnaise, dill, granulated onion, granulated garlic, salt, pepper, and minced shallots (if using). Taste the mixture, and add in remaining mayo as desired for additional creaminess and flavor.
PUT IT ALL TOGETHER
To use Dill Chickpea Spread to build a hearty plant-based sandwich, spread mashed avocado on light toasted bread, top with the chickpea spread, roma tomatoes, and pickles.

Note: If you don't have Seasoned Roasted Chickpeas on hand, preheat the oven to 425ºF. Prepare a sheet pan with edges, line with parchment paper or use a well seasoned cast iron pan. Add ¼ cup avocado oil and a teaspoon of salt and spices of your choosing. If using a sheet pan, cook chickpeas for approximately 15 minutes or until the chickpeas are a deep golden color and have a crispy, but not burnt, outer shell. Cast iron pans retain more heat and cook faster, chickpeas will need about 10 to 12 minutes. Cool completely before using.