Welcome to EATS, where we bring you plant-rich recipes and tips for flavorful, sustainable home cooking. Together, we will explore the world of plants, sharpen our kitchen skills, and help create a more just food system. EATS is not about what you can or can't eat, or what you should or shouldn't eat. It's about eating (and cooking) more plants and enjoying every single bite.
Tempeh is made from fermented soybeans making it a plant-based powerhouse that combines all the goodness of beans with the benefits of fermented food. It's one of those old school health foods you may have overlooked in the past, so consider this your invitation to give it a try. You can usually find it next to the tofu in most grocery stores. Unlike the neutral flavor and soft texture of tofu, tempeh has a mild nutty taste and chunky texture. It's hearty and can take on a lot of seasoning so we're cooking it with tomato paste and store-bought taco seasoning (we prefer the blend from Trader Joe's) to build flavor and keep things simple. And like with any taco, the best toppings are the ones you love, so load them up with cabbage, peppers, corn, or your favorite salsa before you dig in.
Crispy Tempeh Tacos
A flavorful, plant-rich twist for your Taco Tuesday!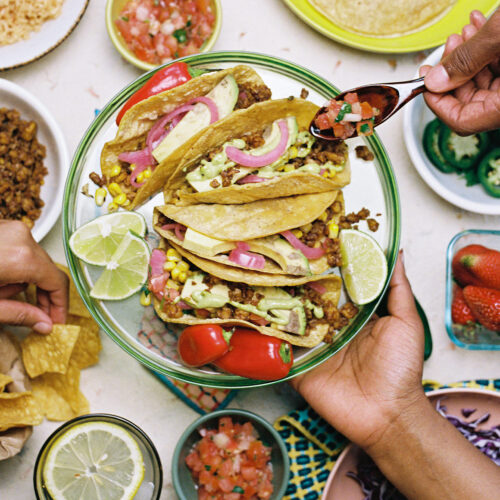 Ingredients
Crispy Tempeh Crumbles
1

8-ounce

pack of tempeh

3

Tbsp.

Taco seasoning blend

(Trader Joe's seasoning, preferred)

1

Tbsp.

tomato paste

⅓

cup

avocado oil

1

Tsp.

kosher salt,

optional
The Toppings
12 to 15

small corn tortillas

½

cup

corn kernels

roasted preferred

3

Sweet bell peppers:

one red, one yellow, and one orange, ribs and seeds removed and cut into thin strips

1

 jalapeño pepper,

ribs and seeds removed and cut into very thin strips

1

avocado,

peeled and cut into slices 

½

red or sweet onion,

peeled, finely chopped, and soaked in water for at least 10 minutes 

1

small bunch cilantro,

roughly chopped

¼

of a small purple cabbage,

finely shredded
Instructions
HOW TO MAKE IT
With a sharp knife, roughly chop the tempeh block and use your hands to crumble the chopped tempeh into small pieces. 

Add the avocado oil to a pan and preheat over medium-high heat. When the oil is hot and shimmering, add the tempeh to your pan. The tempeh should sizzle when it hits the pan. If it does not, remove the tempeh and kick the heat up to high for about 1 minute. Add the tempeh, listen for the sizzle and reduce the heat to medium-high and cook approximately 5 to 7 minutes, stirring occasionally.

As the tempeh begins to brown, add the tomato paste, taco seasoning and salt, and stir well. Cook the mixture for an additional 3 to 5 minutes,  and continue stirring to ensure the mixture does not burn. 

While the tempeh is cooking, place a tortilla in parchment of wax paper or paper towels. Warm the shells in the microwave for approximately 8 to 10 seconds. Alternative option: You can also warm shells in a skillet over low heat.  Place the warmed shells on your plate, add the tempeh crumbles, and garnish with toppings as desired.