This recipe was originally published in the first issue of Radicle, our interactive print publication which centers Black voices and perspectives in sustainability and the environment. Radicle explores a range of topics including environmental justice, indigeneity, sustainable homebuilding, and plant-forward home cooking. The publication was designed to spark curiosity and celebrate community, all while healing our people and the planet.
Every time I eat this salad, I think of one of my good friends from college whose witty dorm room freestyles inspired the name of this entrée. He always had us keeling over with laughter every time he put some words over a beat. If you know, you know! This salad also takes me back to the magic of EIC's Dinner in the Woods, when Eat It Up, Beet It Up made its debut. Serve with toasted bread or in a wrap, and if you're feeling adventurous, sprinkle some falafel crumbs on top.
— Darel Scott, Earth in Color Founder
Coal-Roasted Sweet Potatoes and Bell Peppers with Spiced Sour Cream
A (camp)fire meal. Just prep, pack, and roast.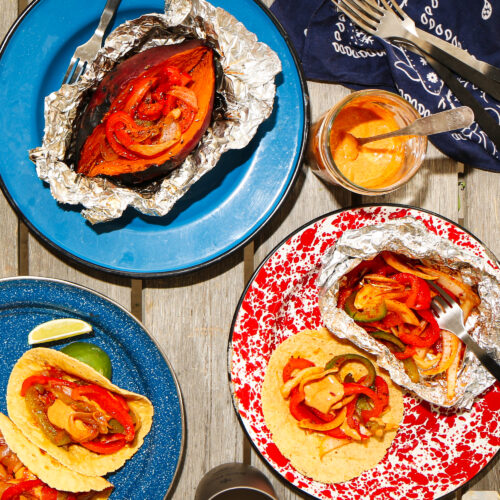 Ingredients
WHAT YOU'LL NEED
4

sweet potatoes

4

Tbsp.

plant-based butter

Salt

Pepper
Foil Packet Spiced Peppers
1

red bell pepper,

stem and seeds removed, sliced

1

green bell pepper,

stem and seeds removed, sliced

1

white onion,

sliced

3

Tbsp.

cooking oil

3

garlic cloves,

sliced

1

tsp.

chili powder

1

tsp.

salt

1

tsp.

paprika

½

tsp.

onion powder

⅓

tsp.

garlic powder

½

tsp.

Cumin
Spiced Sour Cream
½

Cup

plant-based sour cream

(such as Kite Hill)

1

Tbsp.

brown sugar

½

Tbsp.

paprika

½

Tbsp.

chili powder
Optional
4 to 6

16 inch tortillas

(corn or flour)
Instructions
HOW TO MAKE IT
Make the sweet potatoes: Wrap sweet potatoes in heavy duty aluminum foil. Place them in the campfire near the embers. Turn every 5 minutes or so. Using a fork, check for tenderness. Potatoes are done when they are tender all the way through. Roast potatoes for about 30 minutes.

Make the peppers and onions: Add peppers, onions, and garlic to a sheet of foil. Sprinkle over spices. Fold foil to create a packet with all edges sealed. Place the assembled foil packets just above the campfire on a grill grate and cook for 15 to 20 minutes until the veggies are a little soft and the onion is just beginning to brown. If you don't have access to a grill grate, place the packets near the embers alongside the potatoes.

Make the spiced sour cream: In a small bowl, combine sour cream, chili powder, paprika and brown sugar.
PUT IT ALL TOGETHER
Remove the potatoes from the coals. Let cool for 5 minutes before handling. To serve, unwrap potatoes and split in half lengthwise. Split a pat of butter between each half and add a spoonful of the sour cream.

Mix in with the potato until combined as desired. Season with salt and pepper to taste. Serve the packet of campfire roasted veggies on the side. If serving tortillas, warm them by holding over the fire for 30 seconds to heat through.
MAKE AHEAD
Foil packet assembly: Prepare the foil packets as directed. Store in zip-top plastic bags for transportation.

Potato preparation: Wrap the sweet potatoes in heavy duty aluminum foil. Store in zip-top plastic bags for transportation