This recipe was originally published in the first issue of Radicle, our interactive print publication which centers Black voices and perspectives in sustainability and the environment. Radicle explores a range of topics including environmental justice, indigeneity, sustainable homebuilding, and plant-forward home cooking. The publication was designed to spark curiosity and celebrate community, all while healing our people and the planet.
Every time I eat this salad, I think of one of my good friends from college whose witty dorm room freestyles inspired the name of this entrée. He always had us keeling over with laughter every time he put some words over a beat. If you know, you know! This salad also takes me back to the magic of EIC's Dinner in the Woods, when Eat It Up, Beet It Up made its debut. Serve with toasted bread or in a wrap, and if you're feeling adventurous, sprinkle some falafel crumbs on top.
— Darel Scott, Earth in Color Founder
Eat It Up, Beet It Up Salad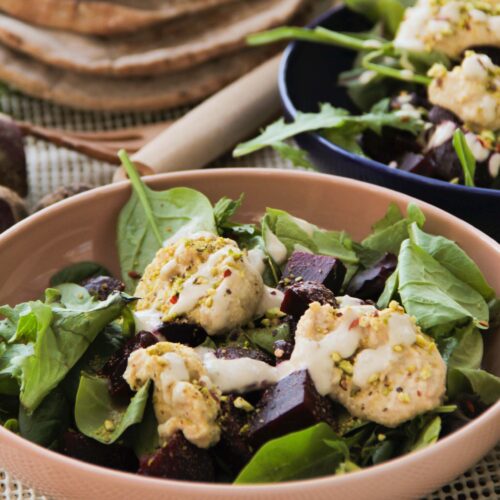 Ingredients
WHAT YOU'LL NEED
8

Cups

spring mix salad greens,

loosely packed

5

Small beets (about 2 large beets),

cooked and peeled

½

Cup

of roasted pistachios,

crushed

1

Lemon,

juiced

¼

Cup

tahini

½

Garlic clove,

minced

3

Tbsp.

hummus

1

Tbsp.

honey

½

Cup

water

¼

Cup

Pecorino cheese

(optional)

Salt and pepper,

to taste
Instructions
HOW TO MAKE IT
If you are not using pre-cooked and pre-peeled beets, boil or steam raw beets until they are tender (i.e., easily penetrated with a fork). Then, place the tender beets into cold water and slough off skin with your fingers or scrape with a spoon.

Chop beets into bite-sized chunks and set aside.

Crush pistachios in a food processor or grind in a mortar and pestle and set aside.

To make your dressing, mix half of the lemon juice, tahini, garlic, and honey in a bowl. Slowly add water to thin out dressing.

To build your salad, layer greens, beets, and heaping dollops of hummus. Cover hummus lumps with crushed pistachios and drizzle with tahini dressing.

Sprinkle a pinch of salt and pepper.

Add remaining lemon juice and toss your salad.

Serve!

Optional step: For an added layer of flavor complexity, grate some Pecorino cheese on top.