Welcome to EATS, where we bring you plant-rich recipes and tips for flavorful, sustainable home cooking. Together, we will explore the world of plants, sharpen our kitchen skills, and help create a more just food system. EATS is not about what you can or can't eat, or what you should or shouldn't eat. It's about eating (and cooking) more plants and enjoying every single bite.
If we're going to a cookout, we are going to make sure there are baked beans on the menu. We want them to be on the sweeter side, seasoned without hesitation, and in a sauce that makes everything from the burgers to the coleslaw taste a little better when they touch on the plate.
Everything about these vegetarian baked beans are pretty standard except for the Pickapeppa sauce. That's what makes them special. Pickapeppa is a sweet and savory tamarind-based sauce you'll find in many Jamaican kitchens. In fact, it's so ubiquitous you sometimes hear people refer to it as "Jamaican ketchup" or "Jamaican A-1." While many baked bean recipes rely on ketchup, we reached into our pantries for this sweet and tangy staple that brings along with it a slew of spices—from ginger to thyme.
The final step of this recipe is essential—that extra cup of boiling water and splash of Pickapeppa sauce open up all the flavors that were infused into the beans while baking, and the complexity of the Pickapeppa sauce shines through.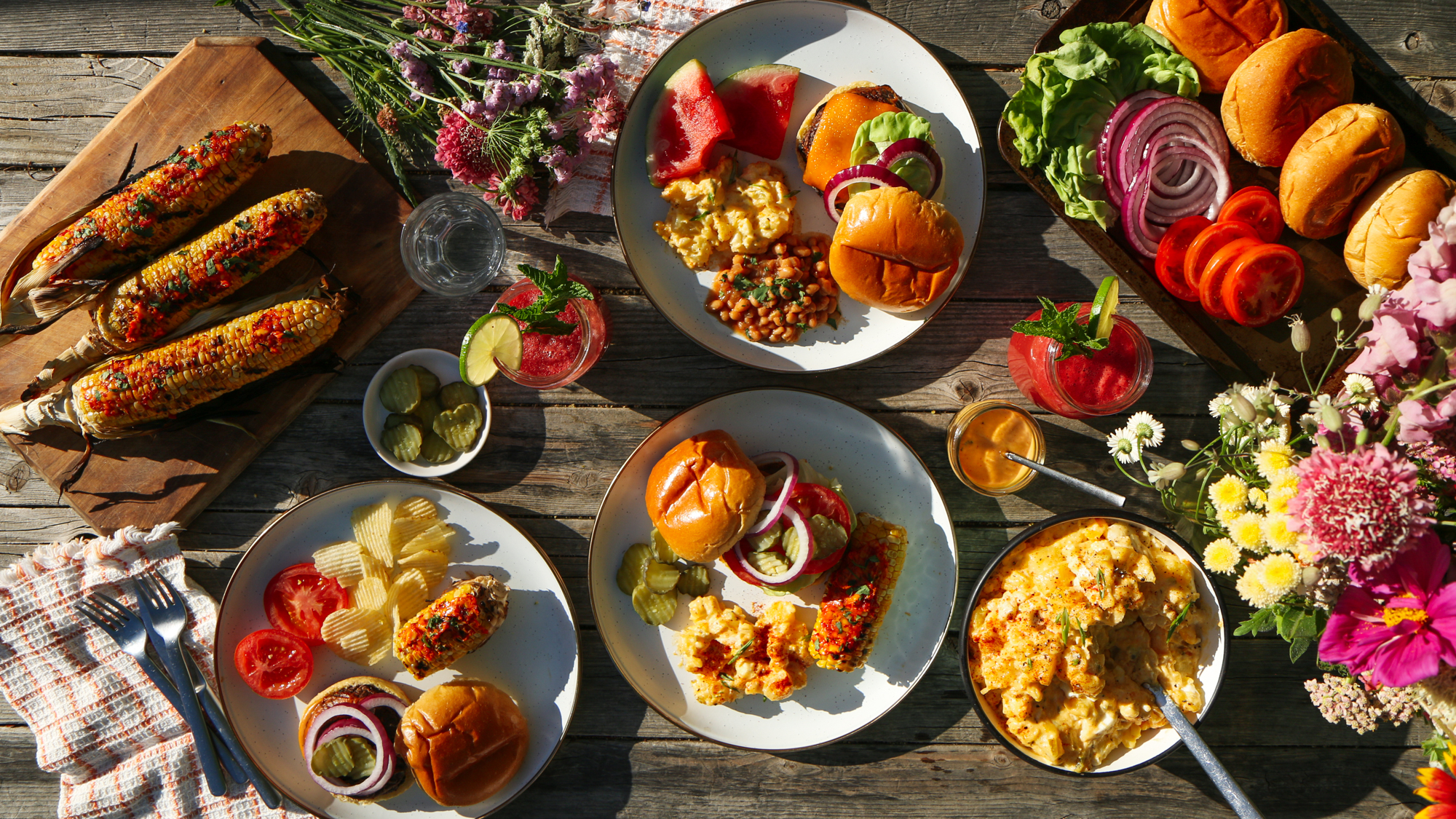 Pickapeppa Baked Beans (Vegan)
Starring a sweet and tangy Jamaican condiment, this side dish is about to be your main dish.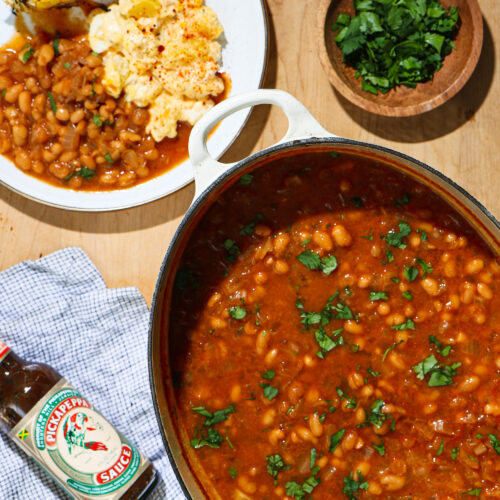 Ingredients
WHAT YOU'LL NEED
2

Tbsp.

oil

(avocado or olive oil)

4

Tbsp.

tomato paste

2

medium yellow onions chopped,

about 2 cups

4

16 ounce cans navy beans,

drained and rinsed

1

Tbsp.

garlic powder

1

Tbsp.

onion powder

1

Tsp.

yellow mustard

½

Tsp.

cumin

4

cups

water

½

cup

dark brown sugar

¼ Cup + 1

Tbsp.

Pickapeppa sauce

1

cup

boiling water

Chopped scallions,

optional
Instructions
HOW TO MAKE IT
In a Dutch oven or a large oven-safe pot, heat the oil over medium low heat. Add the tomato paste. Using a wooden spoon, cook and stir the tomato paste in the oil until it begins to break up and caramelize, about 2 minutes. You will know it's cooked long enough when it begins to smell sweet rather than raw.

Reduce the heat to low and add the onion. Stir until the onions are coated. Continue to cook and stir until onions soften and begin to brown, about 5 to 7 minutes. Adjust heat as needed to avoid burning. Some dark bits on the bottom of the pan is a good thing for flavor. They'll get released and incorporated into the dish during the cooking process.

Add the navy beans, garlic and onion powder, mustard, and cumin. Cook and stir until the beans are fully coated.

Add the water, brown sugar, and ¼ cup of the Pickapeppa sauce. Stir until the brown sugar has dissolved. Increase the heat to high and bring to a boil. Let the beans boil for 2 to 3 minutes. Remove from heat and transfer to the oven in the middle rack. Bake uncovered for 55 to 60 minutes, stirring halfway through until the sauce has thickened. The sauce should look caramelized around the perimeter of the pot.

Remove the beans from the oven. Add the boiling water and remaining 1 Tbsp. of Pickapeppa sauce. Stir to combine. Top with chopped scallions, if desired. Serve warm.
Notes
Note: Beans can be stored in the refrigerator in an airtight container for up to one week. To reheat, cook beans over medium low heat until heated. Add a splash of water to return sauce to desired consistency.