The Community Spotlight series highlights Black individuals and entities who are creating healthy, sustainable, and just futures. In this story, we feature Dr. Ietef "DJ Cavem" Vita, a producer, engineer, organic gardener, b-boy, midwife, and personal vegan chef who has a PhD in Urban Ecology and currently lives in between Colorado and Sausalito, CA. He is the CEO of Plant Based Records, which is a record label that drops albums and distributes them through organic packets of seeds. In this piece, DJ Cavem shares his journey to veganism, the role of art in impacting community, and how he uses music as a tool to spread (literal) seeds of healthy and sustainable knowledge.
VEGANISM IN THE METAL MOUNTAINS
My first memory is planting an apricot tree at age three while living in Colorado in the hood. A lot of the surrounding community, where we planted the apricot tree, was originally an orchard. White flight happened, and there was a shift in the community, so I grew up in a low-income, inner-city neighborhood downtown Colorado. When people think of Colorado, they think of cows and all that, but I grew up in straight up metal mountains. All I know is city. So it was so powerful to actually eat from an apricot tree that I'd planted. A tree that is still growing today.
My great-grandfather was a "cowboy," and he herded the cows to the west. He was also a Buffalo Soldier. My grandfather was Afro Cherokee. He was so dedicated to the warrior mentality that he died in Vietnam. My father didn't grow up with his father. And so that legacy is what embodies a lot of the ancestral wisdom I have.
I got a green thumb because on the other side of my family, my maternal grandfather was born on a plantation, so he knows all about farming. He became a sculpture maker, and he does different carpentry work. You know, fruit don't fall far from the tree.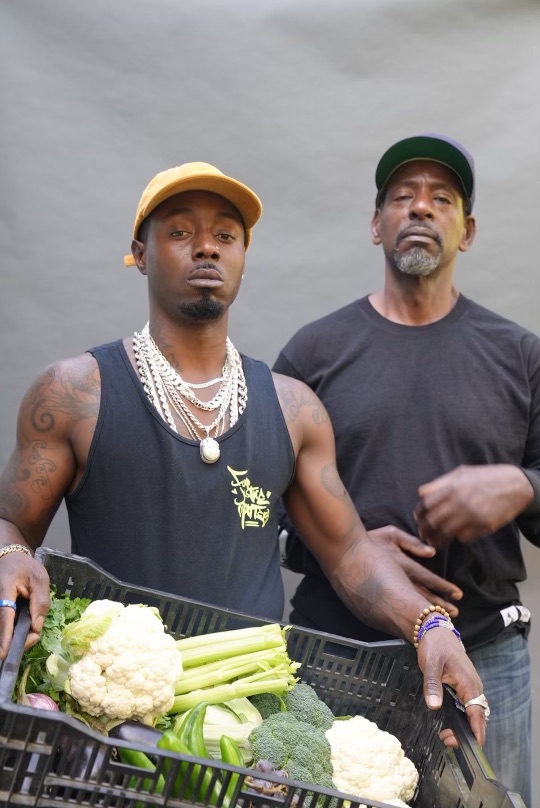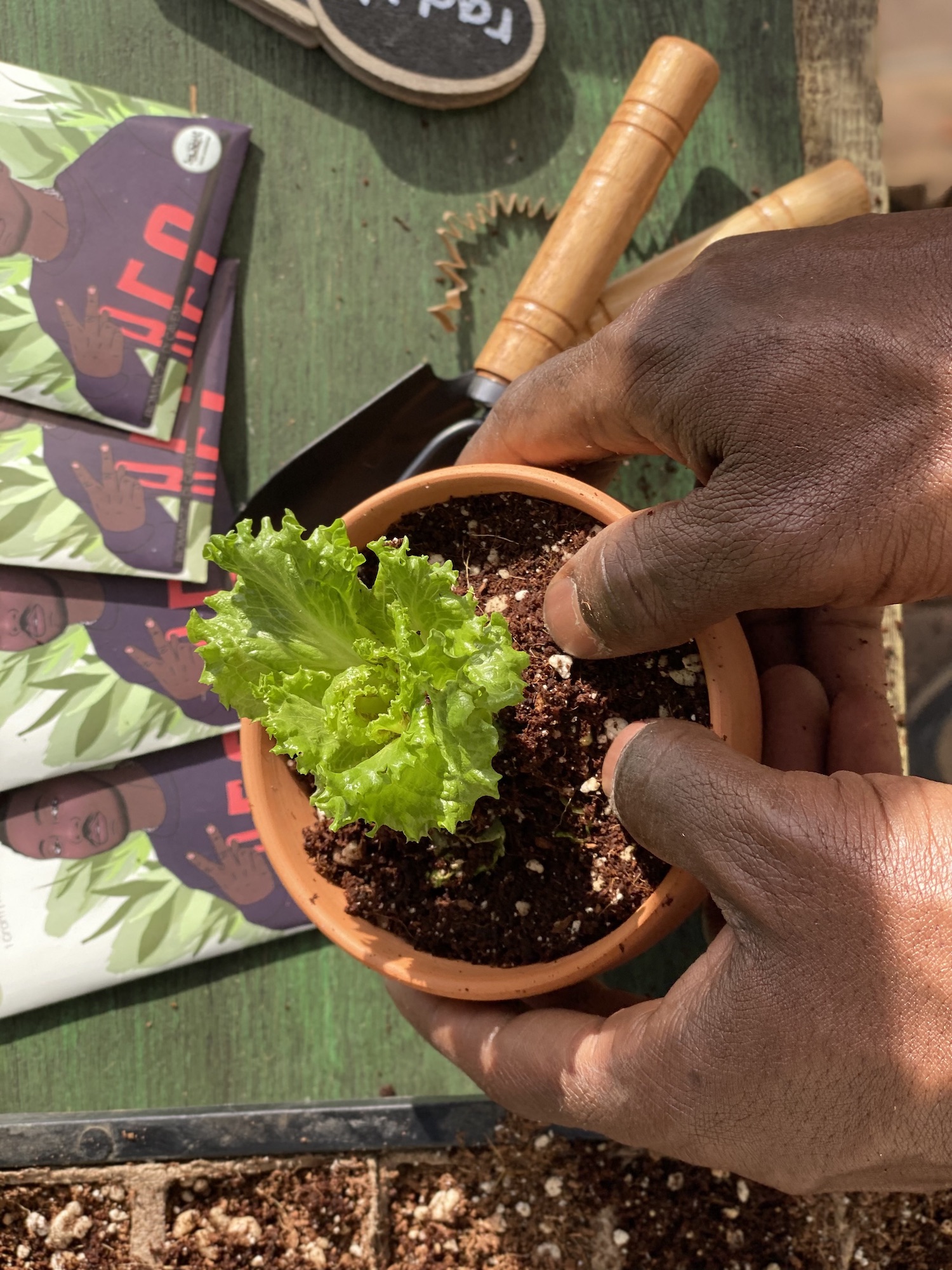 When I was younger around the time my parents split up, my mom was trying to transition to veganism for health reasons. During her twenty-one day detox journey, I remember her making a lot of massaged kale, tofu, and all these other things. When I was younger, produce was easy to find. I could go to the backyard of the elders and find some collard greens, but then it changed. Produce became harder to find, so I grew up eating straight up corner store food.
I came across some Rastas, and they were like, "Yo, we don't eat this way." Because of that I've been vegan since I was fourteen years old. I gotta say, it was probably the herb that opened me up because I was like, "this is plant-based medicine. I should think about other plants." They told me about Ital. I didn't even know what the word vegan was. Ital was the word that I used. I was eating plants, roots, and fresh pressed juice. I was starting high school, so I was trying to figure out who I was. A lot of my mentality was with the basis of animal rights activism being at the forefront. I was upset and made a direct correlation as to how Africans in America were treated on the breeding plantations during slavery and the practices of the the cattle industry today. It's almost identical.
THE ART BEHIND HEALTHY LIVING
My mother started a poetry community when I was in middle school, and that's a major part of my childhood. I used to go to poetry nights every Friday all the way up to when I was an adult. I've literally sat in a room listening to Amiri Baraka reciting poetry. Renowned poet, Sonia Sanchez, has sat on my couch. It's been like that since I was a kid. I didn't realize how impacted I was by those experiences until I started to attend college. I recognized that I would see some of their works and think "this is a book by such and such who came over and ate the last bit of collard greens out the pot" because those poets were my friends or friends of my mom. The experience in my community is definitely what shaped me.
"Ever since I've become vegan, I've felt like I should help other people. The process changed when I was able to take my album and focus more on urban farming."
When I was young, I had elders who wanted to grow their own food around me, and while I appreciated that, I first took more to music. I started playing instruments at six years old. My first instruments were the drums, guitar, and upright bass. I played upright because I was really into jazz. I got turntables around age ten, when I first started performing music. When I made my debut as a performer, I was going by the name "Moetavation." I shifted to being a reggae artist, and began playing shows with some huge names in the reggae scene: Barrington Levy, Eek-A-Mouse, and Israel Vibration. As I kept performing, I got into conscious hip hop and began writing conscious music over reggae and over hip hop beats. Bringing together those genres always sounded jazzy because the combination of that music has a jazz appeal.
Going on tour with The Wailers was one of the dopest opportunities I had in the beginning as I was figuring out what I wanted to do. I opened up for them when their lead singer got sick, and they asked me to perform with them. I played two shows with them and got asked to come back every time they were in town. That's when I realized, "this is something I should really start thinking about."
COMMUNITY AWARENESS VICTORIOUSLY EDUCATING THE MASSES
I've had the nickname Cavem since middle school. That name did not come from peaceful beginnings. I got in a fight and knocked somebody out, and people said "Boom! Caved 'em." That became the name that I had in the hood for a minute. But then, I changed it to an acronym: Communicating Awareness Victoriously Educating the Masses.
I became an educator. It was quite an interesting process. I was one of those kids who struggled in school. I ditched, tested my way out, and went to college. Then, I made the decision to drop out of college early and started teaching. I didn't see any other Black men teaching middle school, high school, or elementary. I figured I needed the degree to do it, but there was such a need for teachers I was told, "oh, just come and teach." I didn't even have a degree, so I was teaching stuff that I knew well. I knew a lot about history and about cooking and gardening. A lot of that stuff was self taught. I created my own curriculum. That's where I adopted the Communicating Awareness Victoriously Educating the Masses (CAVEM).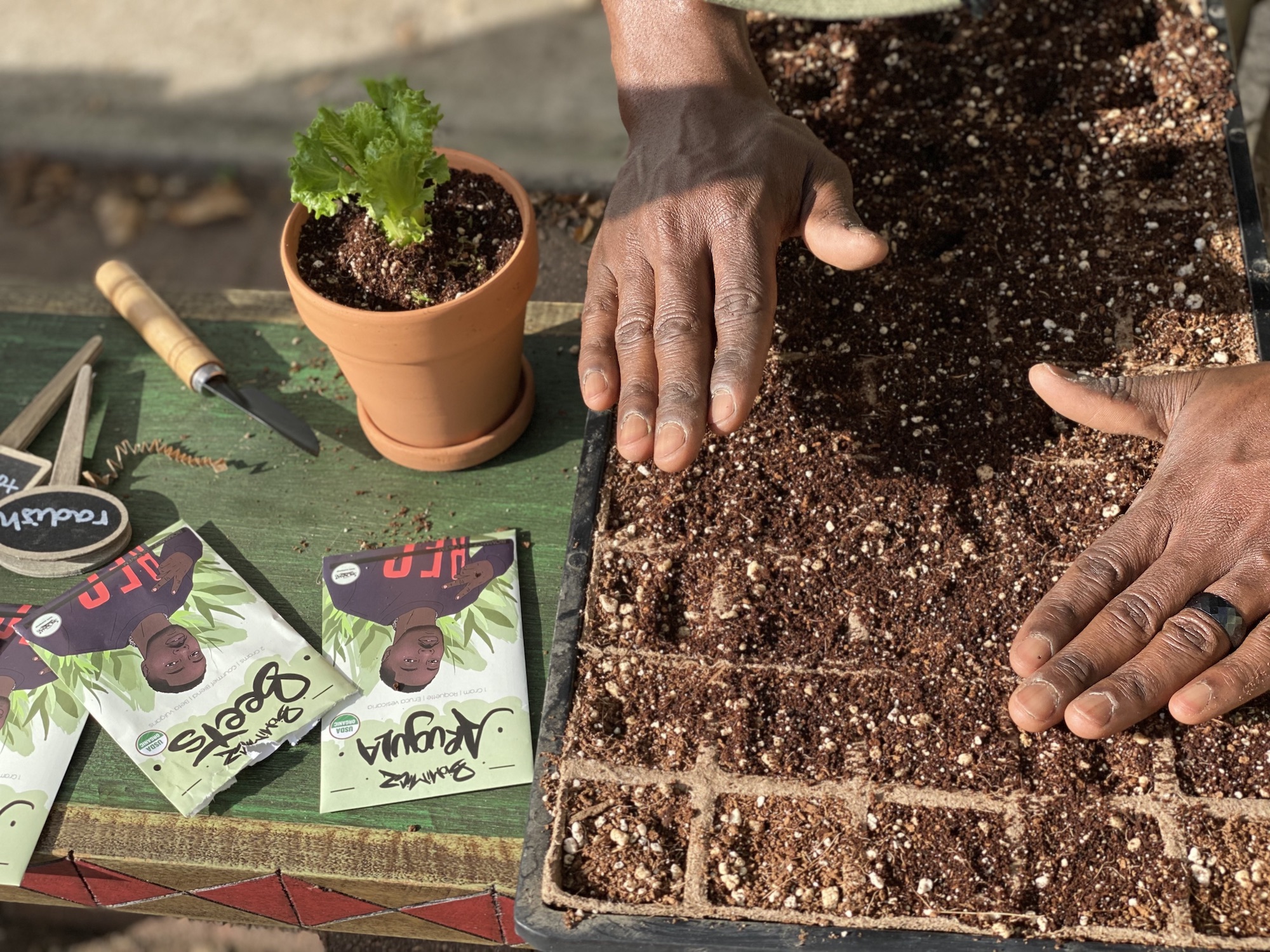 When I was teaching a college prep course for high school, I realized that I had to transform the community and talk about sustainability. So I wrote a song called "Wheatgrass." I got Stic.Man from Dead Prez and Doodlebug from Digable Planets on the track. I was like, "I got both DP's on the track, it's about to go down." I started performing and figured out that I could start writing more than just about wheatgrass, so I wrote a whole album called The Produce Section. That album transformed into an opportunity to tour in grocery stores. It kind of paved the way for me to really focus on plant-based medicines. Ever since I've become vegan, I've felt like I should help other people. The process changed when I was able to take my album and focus more on urban farming.
SOUNDS OF THE SOIL
Originally, I was burning my own CDs. I had the tower, and back in the day I was folding up my little papers and making my own cases. But then I wanted to go plastic free, so I hit up Botanical Interests and said, "I need some heirloom organic tomatoes." They are one of the largest seed companies in the nation, and they happen to be right here in Colorado in my backyard. I'm an urban farmer, so I've been buying seeds for years. Instead of going through a record company producing records, I told Botanical Interests that I wanted to create a partnership to manufacture seed packets instead of CDs for my album. I was trying to think eco-friendly. I thought, "I can compost this. I can recycle it. It's heirloom organic and it's high climate." I knew that if the plants can grow in the mountains, then they can flourish on the coast. That's what I was hopeful for. I needed to make sure that my first round of seeds would be something that could grow year round.
"I want people to go plant based and grow their own food, but I also want them to be able to create cooperative economics and keep a job for themselves."
The whole idea started because there was a lack of diversity of what I saw when it came to gardening.They were just growing one thing. For my first album, I wanted people to eat out of the produce section, so I called it The Produce Section. The next one was called Biomimics because I wanted people to practice biomimicry. The seeds for that album were beets, kale, and arugula. This last one I dropped is called Koncrete Garden because people were literally in the city, just like me. I felt like I needed to write something for people who grow gardens on a rooftop or are growing in a closet. Not everyone has an urban farm, not everybody got access to a community garden. What I thought about was people on a rooftop and on a balcony, which is why I did tomato seeds, because that's the kind of concrete garden mentality. But if you want to do beets, kale, or some arugula, you can also grow some of that on your balcony (but the beets really do like the dirt).
I have the first certified-organic hip hop album approved by the USDA. Now, I'm able to partner up with educators and the Department of Education to use my album as a curriculum for STEM and STEAM. Including this is a way to help bridge that gap that we need in the hood. I want people to go plant based and grow their own food, but I also want them to be able to create cooperative economics and keep a job for themselves. Now, I'm working with other artists, helping them engage their community, spread seeds in their community, and save them. During the pandemic, my wife and I decided to give out over 42,000 packets of organic seeds to the community. I'm about to do it again with this next album, not just for farmers in need, but also for people in the hood who want to grow produce.
The real focus is adopting a mentality of compassion, teaching people how to be patient. You know, nothing grows overnight. With that, we're able to have more clarity on who we are, that's the focus. That's the growth. I hope to help people find what they love, and help them take care of their body. My goal is to help people transition towards a way of life that is a reflection of sustainability and regenerative lifestyle.