Welcome to EATS, where we bring you plant-rich recipes and tips for flavorful, sustainable home cooking. Together, we will explore the world of plants, sharpen our kitchen skills, and help create a more just food system. EATS is not about what you can or can't eat, or what you should or shouldn't eat. It's about eating (and cooking) more plants and enjoying every single bite.
When it comes to life in the outdoors, convenience and comfort are two things that can determine how much an adventurer will enjoy a day or overnight trip. Another important aspect of a successful time venturing out into nature is the food. When I plan a trip to the outdoors, I think about creating great-tasting, easy-to-prepare plant-based meals that will fit the activity. My current camping staple that embodies this is an incredibly Simple One-Pot Camping Chili. It's a hearty meal that is easy to make and doesn't take much to prepare for ahead of time.
Chili, or chili con carne, was commonly prepared in northern Mexico and what is now southern Texas. The first mention of chili con carne was found in writings dating back to 1529. It was described as a chili pepper-seasoned stew that was consumed in the Aztec capital, Tenochtitlan, now the location of Mexico City. The dish largely originated with working-class Tejana and Mexican women.
Today, it is usually prepared as a spicy stew with chili peppers or chili powder, meat (usually beef), tomatoes, kidney beans, and seasonings such as garlic, onions, and cumin. Chili can easily be made plant-based and enjoyed around a campfire by family and friends for a delicious dinner option.
This simple chili recipe, that I actually first put together in the middle of a camping trip, can be altered for spice tolerance and can be dressed up and served in a variety of ways, including the Frito boat or Frito Pie style, where chili is served over a bed of Frito chips while still in the bag. You can enjoy the vibrant and savory dish in your favorite reusable camping bowl topped with shredded plant-based cheese, avocado, or plant-based sour cream. It can also be served with tortilla chips, on its own, or as a topping on plant-based hotdogs.
—Jasmine Lowe, Intermediate Adventure and Hike Lead of LA-based Black Girls Trekkin'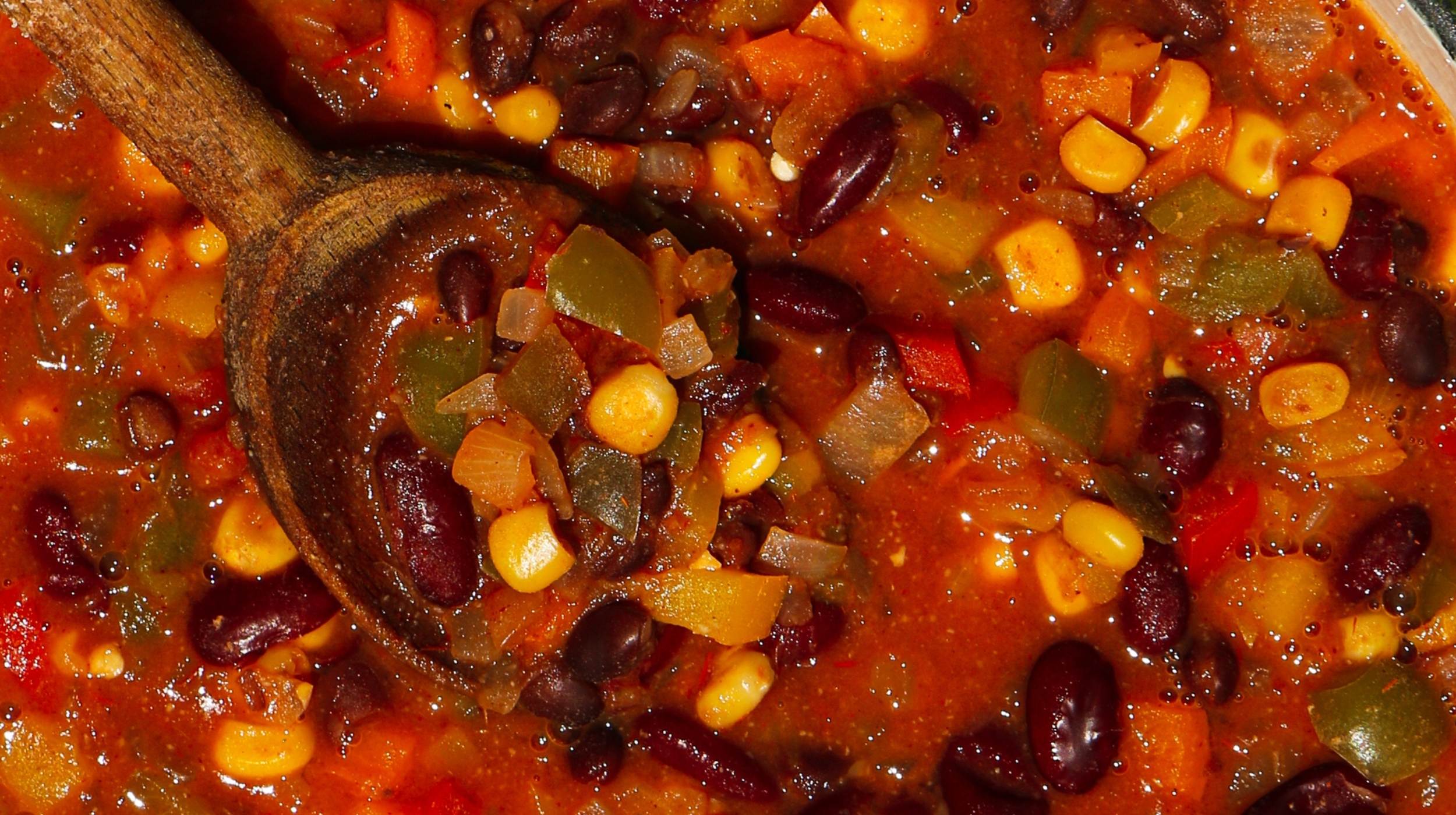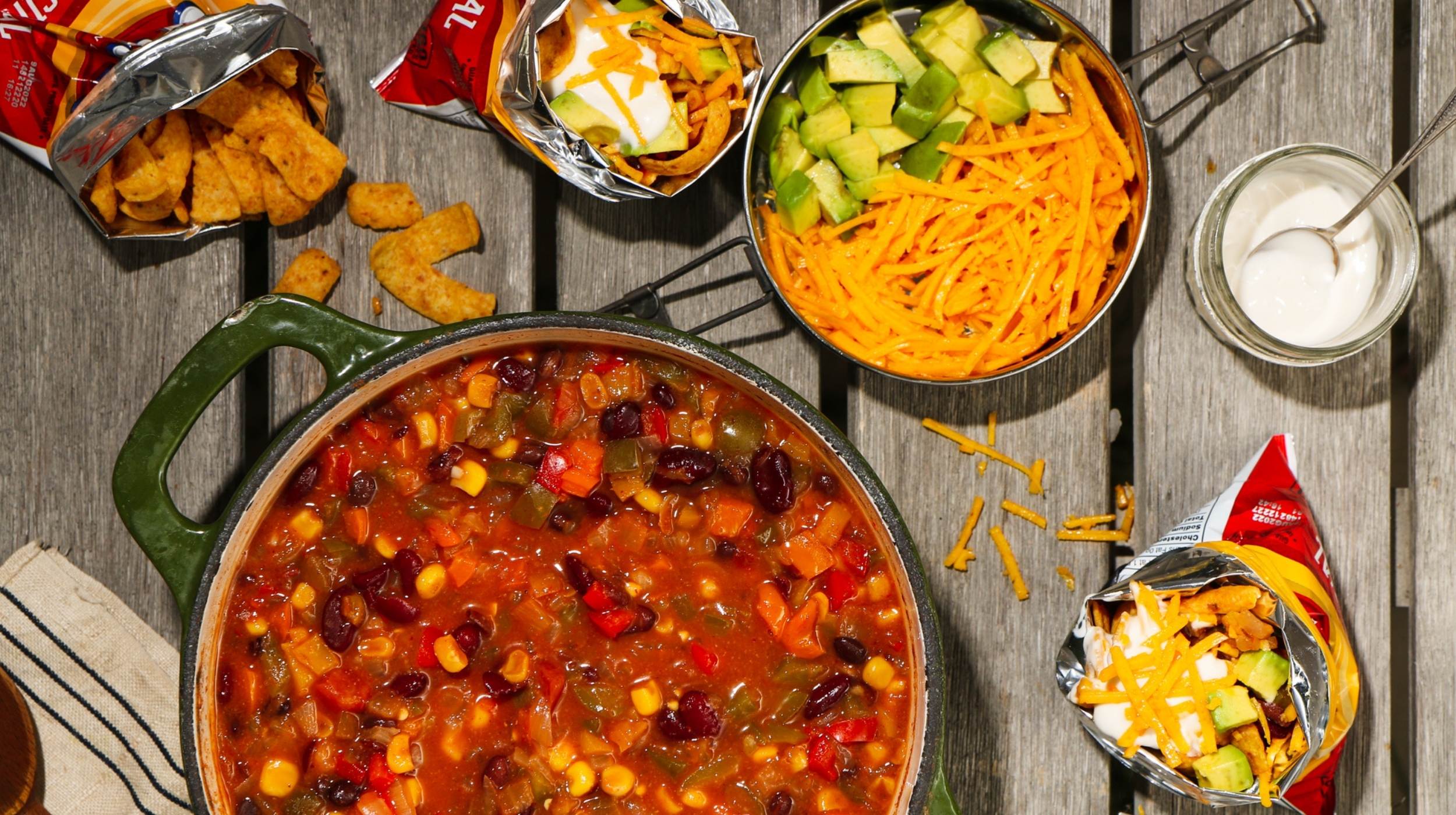 Simple One-Pot Camping Chili
Best served in a bag of chips.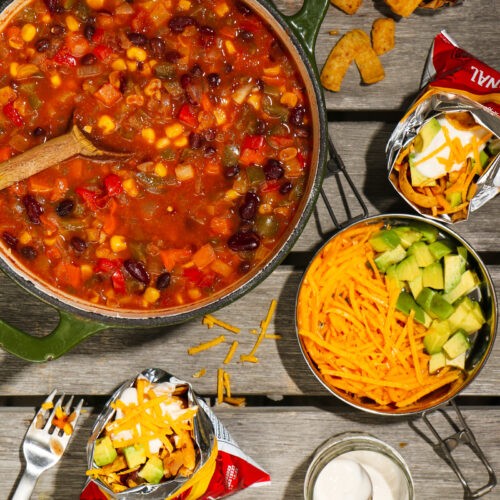 Ingredients
WHAT YOU'LL NEED
1

Tbsp.

avocado oil

1

large onion,

diced

1

medium green bell pepper,

stem removed, diced

1

medium yellow bell pepper,

stem removed, diced

1

medium orange bell pepper,

stem removed, diced

1

16 ounce can low sodium black beans,

drained and rinsed

1

16 ounce can low sodium red kidney beans,

drained and rinsed

1

16 ounce can corn,

drained

½ to 1

packet of chili mix*

1

16 ounce jar of mild salsa

2

cups

water

(use the salsa jar)
Toppings
Vegan shredded cheese

Avocado slices

Vegan sour cream

Tortilla chips
Instructions
HOW TO MAKE IT
In a large pot heat 1 Tbsp. oil over medium heat. Add the onion and bell peppers. Cook and stir for 10 minutes until softened.

Add the beans, corn, and chili mix. Cook for about 5 minutes until everything is coated and the spices smell fragrant. Add the salsa. Fill the salsa jar with water and shake to release any last bits of salsa. Add to the pot. Bring to boiling. Boil for 3 minutes. Reduce to a simmer and cook for 10 minutes more. Remove from heat and serve. Makes 6 to 8 servings.

Top your chili with vegan shredded cheese, avocado, vegan sour cream, or tortilla chips, and then serve.
Notes
Adding plant-based meat:
To add plant based meat, sauté 1 cup of plant-based meat crumbles in the oil until browned. Continue following the recipe from there.
*Make your own chili mix:
Combine 2 teaspoons chili powder, 2 teaspoons garlic powder, 2 teaspoons Cumin, 1 teaspoon onion powder.  
Prep Ahead:
 Dice your onions and bell peppers ahead of time and place them in reusable ziplock bags or a food container. The tomatoes found in most chili dishes will come from the salsa in this recipe.