Welcome to EATS, where we bring you plant-rich recipes and tips for flavorful, sustainable home cooking. Together, we will explore the world of plants, sharpen our kitchen skills, and help create a more just food system. EATS is not about what you can or can't eat, or what you should or shouldn't eat. It's about eating (and cooking) more plants and enjoying every single bite.
Saying that this is the best potato salad recipe is a bold claim to make about such a contentious dish. So I won't make that claim. But I will say this: this recipe is really good. It's simple, delicious, and well-balanced. It's my favorite variation because it's not doing too-too much but it is still doing a little something-something. It is the perfect creamy side for your plate at The Cookout.
This is an easy-to-make version of classic Southern potato salad. If you are a proud member of Team No Mayonnaise, Team Potato Skin On, Team Mustard, or even Team Must Add Raisins, this recipe is not for you! My family's potato salad combines Yukon Gold potatoes, hard-boiled eggs, Hellman's mayonnaise, and relish. We add garlic and onion powder, salt and pepper, and we serve it chilled.
Because this recipe is quite simple—intentionally so—the ingredients and techniques really matter. For the potatoes, it is important to use Yukon Gold. They hold their shape well when boiled, don't absorb too much water, and are really creamy. Many people like to use red potatoes. I get it, but I really like the smoothness of the Golds which helps with the overall texture of the salad. For the mayonnaise, my family loves Hellman's. If you love Duke's, prefer a vegan version, or want to make your own, go for it. Because the mayonnaise is the foundation of this dish, you want to make sure you choose wisely. As for technique, make sure that most of your potato pieces are uniform in size so that there aren't any undercooked or overcooked pieces. That said, if you have a few potato chunks that are relatively small they make every bite bind together because they will mash a bit and combine with the mayonnaise. The juice of the sweet relish also adds to the dish's cohesiveness: it helps all of the ingredients get to know each other better. And finally, if you can, make this ahead of time so everything can mix and mingle in the fridge.
—Darel Scott, Founder of Earth in Color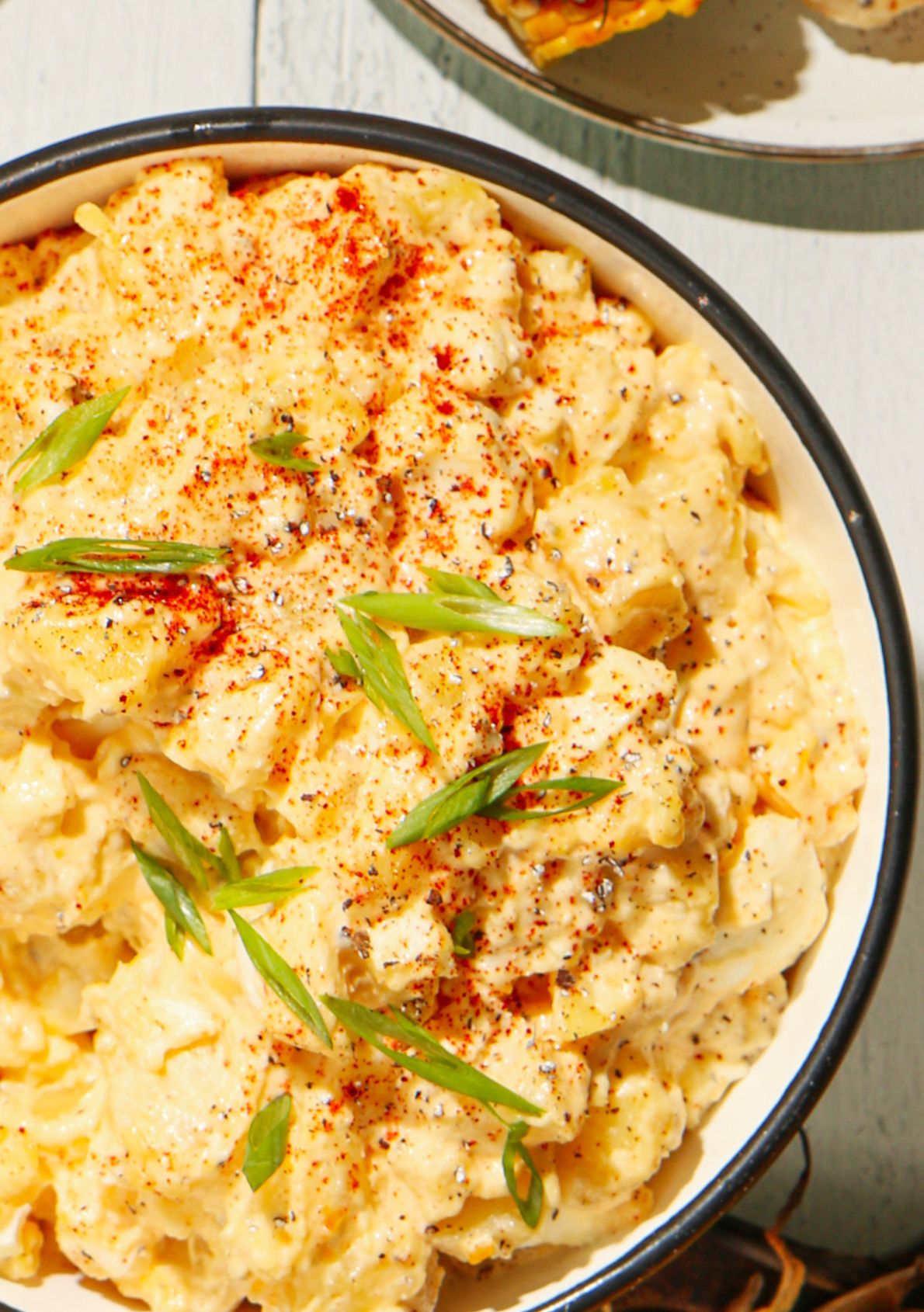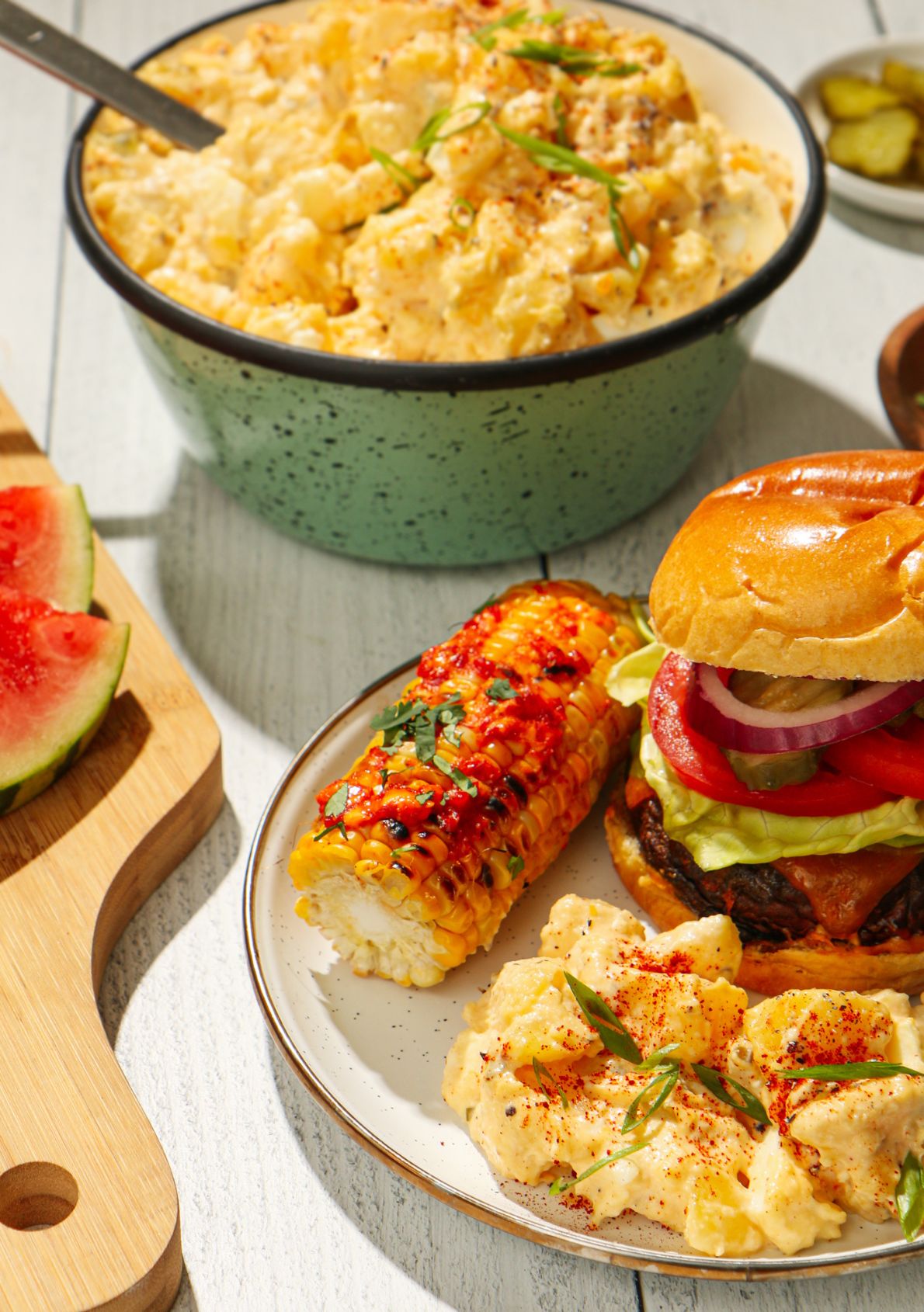 Simple Southern Potato Salad (No Mustard)
This is the perfect creamy side on your plate at The Cookout.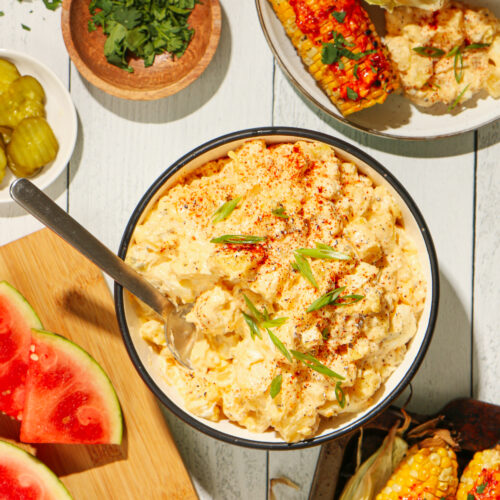 Ingredients
WHAT YOU'LL NEED
4

lbs.

Yukon Gold potatoes,

skinned and sliced 1-inch chunks

6

eggs

1 ½

Cup

Hellman's mayonnaise

¼ Cup + 2

Tbsp.

relish

(sweet, dill, or a combination of both)

1

Tbsp.

onion powder

1

Tbsp.

garlic powder

2

tsp.

black pepper

2

tsp.

salt

1

tsp.

paprika

(optional)
Instructions
HOW TO MAKE IT
Bring a large pot of generously salted water to boiling. Add the potatoes and boil until the potatoes are fork tender, about 10 to 12 minutes. The potatoes should still have a good bite to them but still smash easily. Drain and cool on a sheet pan.

Meanwhile, add 6 eggs to a pot and fill with water until covered by 2 inches. Bring to boiling. Boil for 10 minutes. Remove from heat and transfer to cold water. Once cool, peel and chop. Set aside.

In a large bowl, mix together the mayo, relish, garlic, onion powder, pepper, and salt. Add the potatoes and mix until coated. Add the eggs and gently mix to combine. Add paprika, if using. Cover and chill at least one hour before serving.
Notes
Storage Note:
Potato salad can be stored in an airtight container in the refrigerator for up to one week.