Welcome to EATS, where we bring you plant-rich recipes and tips for flavorful, sustainable home cooking. Together, we will explore the world of plants, sharpen our kitchen skills, and help create a more just food system. EATS is not about what you can or can't eat, or what you should or shouldn't eat. It's about eating (and cooking) more plants and enjoying every single bite.This recipe is by Amethyst Ganaway, award winning chef, food writer, and content manager for Yolélé.
Fonio is a tiny, ancient West African millet—the oldest cultivated grain on the African continent, and has been domestically grown for over 5000 years. It is seeped in folkloric creation myths in the Dogon culture of Mali, known as the seed from whence the whole universe began. It was so revered that Egyptian pharaohs and nobles were buried with it in their ancient tombs. But there is more to fonio—the grain as small as sand—than meets the eye. This whole grain is full of nutrients, vitamins, and even packs some protein. It's so good for you that new mothers in some West African cultures are fed the grain for its dense nutritional value and even give their babies fonio amongst their first solid foods. In addition to being a nutritious food source, Fonio is also a sustainable crop. It's easy to grow, not requiring much water, inputs, or labor since it can literally be thrown into any soil and left to germinate. This grain regenerates ecosystems and farmland ruined by climate change and desertification across the Sahel region of Africa. Companies like Yolélé are working to turn this powerful grain into a full supply chain for the smallholder farmers as well as spread the word to larger organizations who can help in the battle against climate change.
Above all, fonio is delicious. It is texturally comparable to quinoa or couscous, and cooks similarly as well. Most fonio in the western world is cleaned and processed to make cooking easier—under five minutes on the stove or steamed in the microwave. Similarly to couscous, it soaks up sauces, soups, and stews, and really any flavor you impart on it, whereas on its own it has a neutral but slightly nutty flavor. Fonio is a wonderful substitute in recipes that include wheat flour—it bakes well for cakes and cookies and even fries well, leaving a crispy golden color on the dish. This recipe is simple to make, can be prepared days ahead, and can be made savory or sweet (although this particular recipe is savory), to show the versatility of fonio and sweet potato. And the aioli can be adjusted for heat and spice, but don't skimp and substitute for mayonnaise here—the homemade dip is well worth the effort of making it by hand!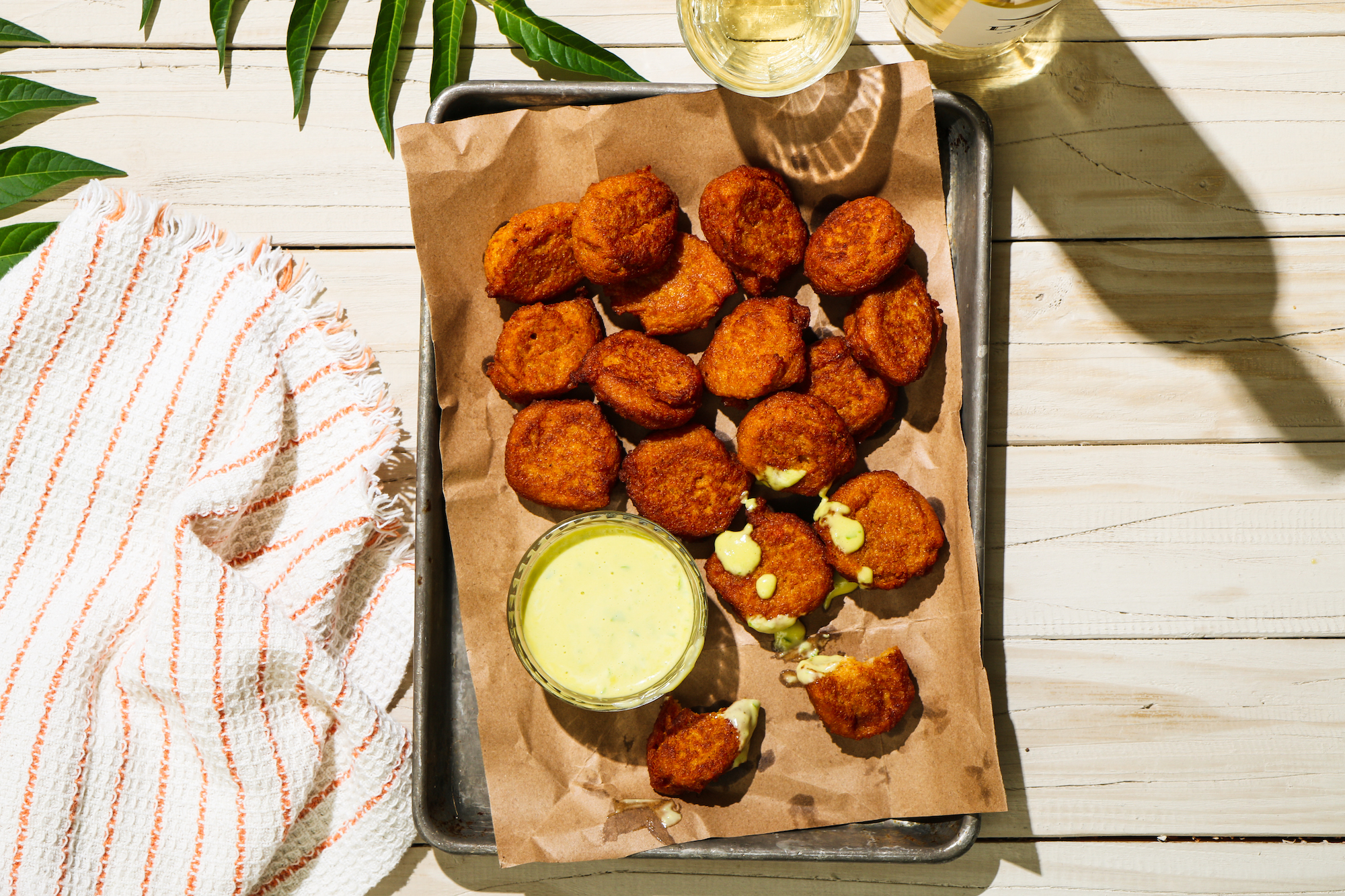 Sweet Potato Fonio Fritters with Sweet and Spicy Aioli
Savory or sweet, these fritters pack a flavorful punch and a bit of crunch with fonio.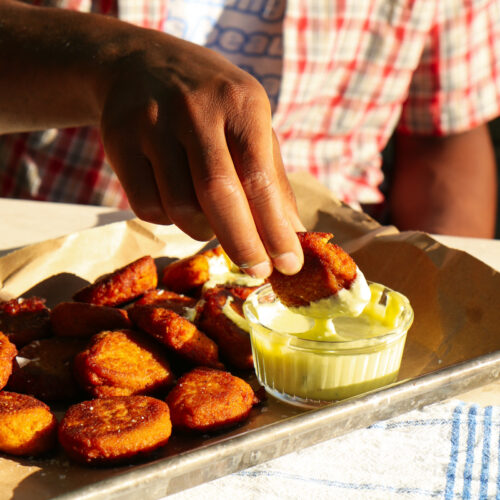 Ingredients
Spicy Aioli:
3

large egg yolks, room temp

½

garlic cloves, pressed or finely minced

½

sweet, spicy pepper (Dragon Toe, Anaheim, or Poblano), deseeded*

⅔

cup

olive oil

½

lemon, juiced (about 1 tablespoon)

Kosher salt to taste

*Add sweet, spicy pepper to taste depending on spice level and size
Fritters:
1 ½

cups

sweet potato mash

1

cup

cooked and cooled fonio

3

Tbsp.

all purpose flour

½

Tsp.

kosher salt

¼

Tsp.

allspice

¼

Tsp.

cayenne pepper (or to taste)

1

large egg, well beaten

1

cup

neutral flavored cooking oil
Instructions
HOW TO MAKE IT
In a food processor, combine the egg yolks, garlic, and pepper. Process for about 15 seconds on the highest setting. Then, slowly begin to drizzle in the oil while continuing to process. After adding about 1/2 cup of oil, turn off the processor and check the consistency. Process and drizzle in more oil if needed, then add lemon juice and salt to taste. Mix well again for about 15 seconds before transferring to an airtight container, and setting aside in the refrigerator until ready for use.

In a medium bowl, add all of the fritter ingredients except the seasonings, spices, and egg. Taste, season as needed, and then add the beaten egg. Mix well until all ingredients are incorporated.

Form into fritters about 2 inches by 2 inches round and add them to a lined baking tray. Place the fritters aside in the refrigerator for about 5 minutes to firm up.

In a frying pan, add the cooking oil. Heat over medium high heat or for about 1 to 2 minutes. Remove the fritters from the fridge while the oil heats up. Once the oil is ready, add a few fritters in at a time, being sure to not overcrowd the pan. Cook fritters for 3 to 5 minutes before flipping and cooking an additional 3 to 5 minutes, or until fritters are golden brown.

Remove fritters and place on a cooling rack. Cool slightly before serving with the spicy aioli.
Notes
Fritters can be prepped ahead of time (with or without the egg), and frozen for up to 2 months.

Cooked fritters will last in the fridge 3 to 5 days, wrapped in plastic wrap and/or stored in an airtight container.

Fritters can be served spicy and savory, or sweet. These fritters work just as well with cinnamon and vanilla added into the fritter batter with cold ice cream served on top. The cayenne is a spicy, delicious contrast with sweet ice cream! Add peppers, green onion, or other ingredients like herbs to the potato mix for a more savory fritter.

Roasting, baking, or microwaving whole fresh sweet potatoes adds more depth of flavor to this dish, but canned whole or mashed sweet potato works just as well. I personally roasted one and microwaved the other and both tasted good (I prefer the roasted!).

The egg and flour in the recipe can both be substituted with plant based options and other flours.

Aioli will last 3 to 5 days in a tightly sealed container. Add a piece of plastic wrap pressed on top of the aioli to avoid creating a skin on its top.

Roasting the garlic and/or peppers of the aioli will impart a richer flavor.

The food processor can be substituted with a blender or bowl and whisk!