Welcome to EATS, where we bring you plant-rich recipes and tips for flavorful, sustainable, home cooking. Together, we will explore the world of plants, sharpen our kitchen skills, and help create a more just food system. EATS is not about what you can or can't eat, or what you should or shouldn't eat. It's about eating (and cooking) more plants and enjoying every single bite. This recipe is by Will Coleman (@chefwillcoleman), a chef, content creator, multi-founder, and TV host who's diversifying the food space and creating moments of adventure and joy on and off the screen.
As we approach the end of tomato season, my quest for creative tomato dishes beyond the beloved BLT or fresh marinara is always ongoing. This time, I'm crafting a simple yet dynamic salad that showcases seasonal heirloom tomatoes, cucumbers, and avocados. Elevating the flavors further is the aromatic homemade chili oil, which perfectly complements the fresh tastes of in-season tomatoes. One of the best things about making chili oil at home is its lasting appeal; it can reside in your fridge for up to 3 months. This salad serves as an ideal side dish to enhance your dinner spread, and with the addition of favorite proteins like seared tofu, grilled steak, or roasted chicken, it can even take center stage as a main course.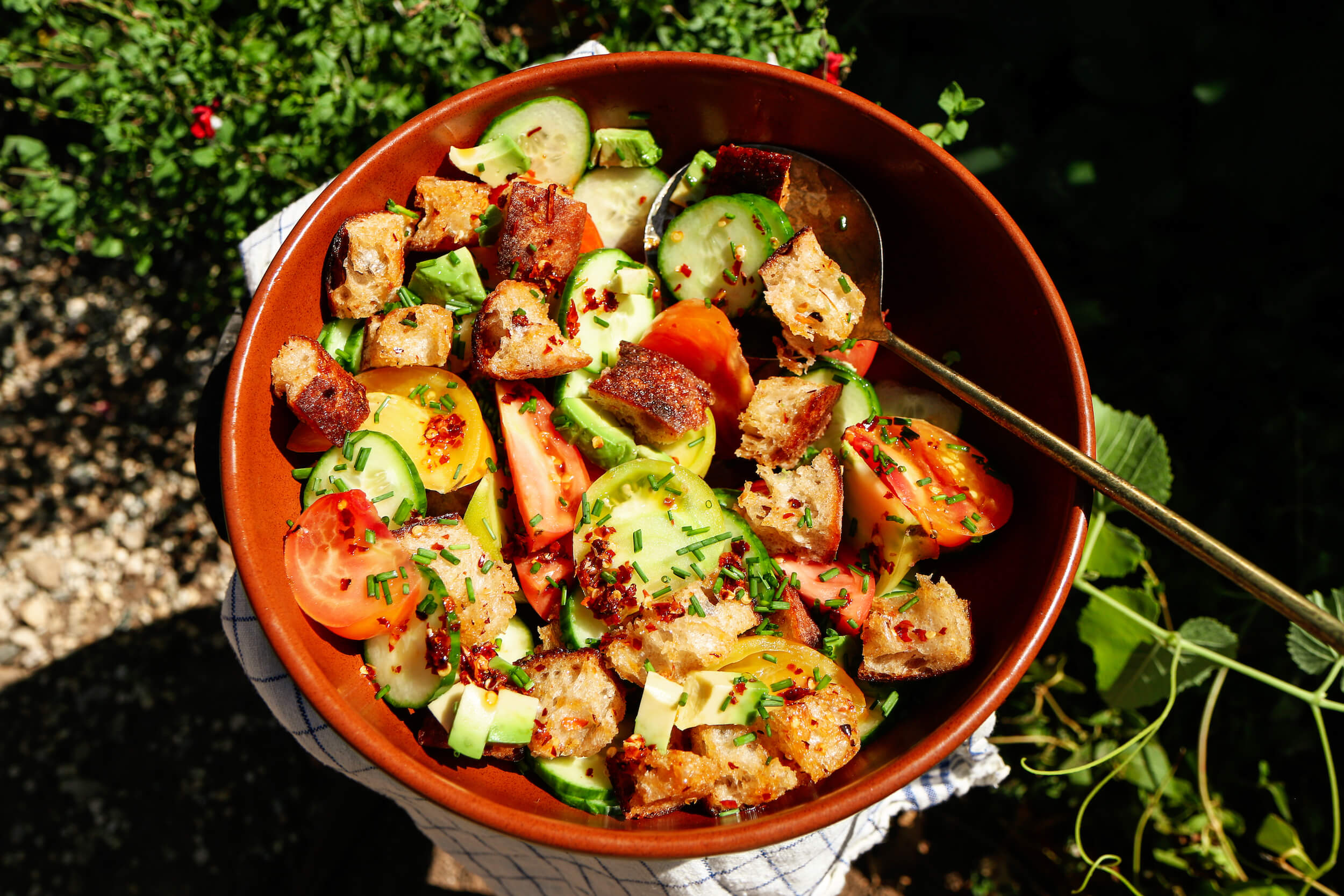 Fragrant Tomato Salad with Fried Croutons
This seasonal salad makes a statement, especially when served with homemade chili oil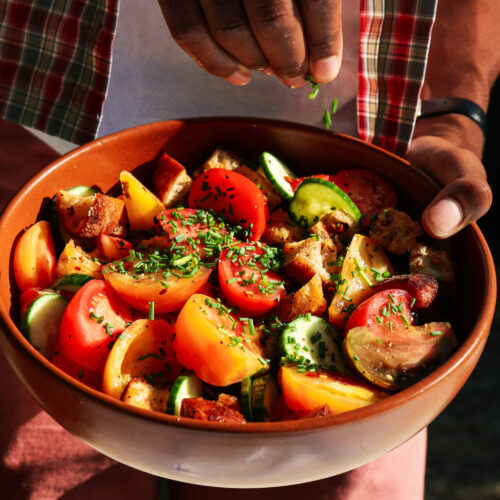 Ingredients
Chili Oil:
3

cups

vegetable oil

6

star anise

1

4 to 6 inch cinnamon stick

3

Tbsp.

black peppercorns or Sichuan peppercorns

1

small ginger piece, halved

2

Tsp.

whole cloves

6

large garlic cloves, crushed

2

large shallots, halved

1 ¼

cups

Sichuan chili flakes

2

Tsp.

kosher salt

¼

cup

cane sugar

½

Tsp.

MSG
Salad:
2

cups

ciabatta or sourdough bread, cut into 1-inch pieces

4

to 6 medium tomatoes, quartered

1

large English cucumber, thinly sliced into rounds

1

1 large avocado, cubed

Kosher salt and freshly ground black pepper, to taste

½

cup

chopped chives
Instructions
Make the Chili Oil:
In a large pot, combine vegetable oil, star anise, cinnamon stick, ginger, cloves, garlic, and shallots. Warm over medium heat, bringing it to a gentle simmer. Allow it to cook for 30 to 45 minutes. If the oil's vigor intensifies or the aromatics brown prematurely, lower the heat. Maintain a temperature between 200 and 225 degrees fahrenheit throughout cooking.

While the oil infuses, begin to prepare the remaining components. Mix Sichuan chili flakes, salt, sugar, and MSG in a large heat-proof bowl.

As the oil takes on color and shallots crisp up, remove it from heat. Position a mesh strainer over the bowl and carefully pour the oil onto the dry ingredients. Discard the aromatics and let the chili oil mixture infuse for at least 10 minutes.
Make the Salad:
Set a large pan over medium heat and add 2 tablespoons of chili oil. When the oil shimmers, add in the chopped bread. Toss to coat the bread with oil and cook for 5 to 7 minutes until crispy and golden brown.

Once the croutons are ready, set them aside. Now, assemble the salad. Arrange the quartered tomatoes, sliced cucumber, and cubed avocado on a large platter. Season with salt and pepper. Top with croutons, drizzle a few spoonfuls of chili oil, and garnish with chives.
Notes
The chili crisp will last in your fridge for up to three months, so feel free to pair it with dishes such as eggs, rice, pasta, or proteins.